IKEA Planner Layout
Carrie B
February 18, 2014
So, assuming the link to my IKEA plan worked worked, here are some qualifications:
I'm a tech idiot. I tried to do a lot of things on here that I could not figure out how to do, so, some stuff is off or looks weird, but I think you'll get the general gist.
The basement door should actually be in line with the kitchen - but I couldn't figure out how to make it stick out that way. Also, the box looking thing on the floor next to the basement door are the steps going upstairs - could not figure out how to do that, either.
I'm not at all sure about the fridge wall - only that the fridge will be somewhere on it.
The big thing I'm still trying to figure out is what to do about cooking appliances. I use my 30" gas range thus: stovetop - gets used by me/my airbnb guests to boil water for tea & to make fried eggs. Rarely more than one burner in use at a time. As far as the oven goes, I use that once or twice a month at most - usually to heat up a frozen pizza or something.
Am considering my options. Convection microwave with a cooktop? Two burners only? Induction? Not sure what makes sense, but the 30" gas range plus existing countertop microwave take up space... Over at garden web, it was suggested that OTR appliances are not such easy access for a much used appliance.
The peninsula will have a sink & (I think) an 18" DW. I haven't had a DW most of my adult life & have rarely missed one, but I don't like the cluttered drainboard on the counter, and at least I could stash washed dishes to drain in the DW, if nothing else.
Don't love the fact that the door (if inswing) will block some counters and/or cabinets - door is open most of the summer (no AC, and I'm in & out to the garden constantly.) Also, not sure about the upper over peninsula - seems to make sense with the DW right there, especially considering the door blocking cabinets across the way, but I'd soooo love to have a bigger window - that wall's go the very best garden views.
Here it is, on paper: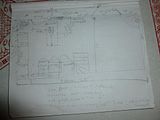 Here is a link that might be useful: My IKEA Planner