Cabinets are going in! Still need pulls - help, please!
My kitchen cabinets started going in today, which is very exciting. The tall pantry and oven cabinets went in, along with some of the base cabinets. Unfortunately, I didn't think to take a picture until the sun was already going down, so you can't really see any detail. The cabinets are custom walnut with slab front drawers and doors.
I have been so consumed with other details, that I forgot to order pulls. I have been considering the Top Knobs Princetonian in brushed nickel for a while. The style is very similar to the Gaggenau handles on the refrigeration columns and steam oven, although the Princetonian handles are thinner and have slightly different end caps. They have multiple sizes from 4" - 37" and I would probably go with pulls just a little shorter than the drawer widths. Unfortunately, it will take at least 2 weeks to order them. DH will be annoyed if we can't open our cabinets easily and the cabinet guys will be annoyed if they have to make a separate trip to install the hardware.
While I was at an appliance showroom a couple days ago, I spotted a slightly beefier bar pull I liked. I asked the salesman where they were from, and he said IKEA. I liked the way they looked on the slab cabinets and how they felt when I pulled the drawers open. I liked that the diameter of the rods was a little thicker than the Princetonians. I brought packages home, but they seem different loose than in the showroom. The stainless steel IKEA Vinna pulls are lighter in weight than the smaller Princetonian sample and the finish is not quite as fine, although I think it would be fine if you did not have something right next to it to compare the finishes. The IKEA handles are in stock and would cost $400-500 less than the Princetonians. They come in 6" and 14" lengths (it's both good and bad to have fewer size options from which to choose).
WWYD? Which do you think looks better: longer & thinner or shorter & beefier pulls? The house is a 60's ranch with some MCM detailing, although not entirely modern. The walnut cabinets are fairly sleek, but the fir ceiling looks a bit rustic. Faucets are sleek chrome, light fixtures and door handles throughout house are brushed nickel. Non-paneled appliances are stainless steel.
World's worst teaser photo:
The layout:
Refrigeration columns like these:
Top Knobs Princetonian pulls:
Contemporary Kitchen design by Dallas Architect Domiteaux + Baggett Architects, PLLC
Contemporary Kitchen design by Dallas Architect Domiteaux + Baggett Architects, PLLC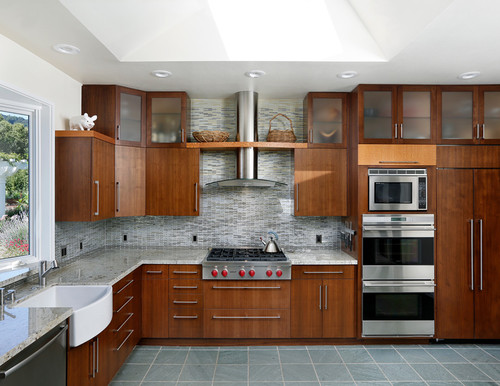 Contemporary Kitchen design by San Francisco Architect Duxbury Architects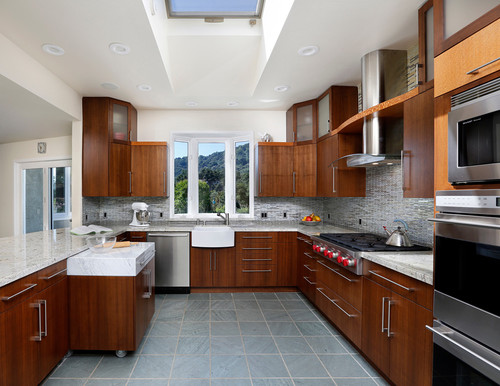 Contemporary Kitchen design by San Francisco Architect Duxbury Architects
Ikea Vinna pulls:
Contemporary Kitchen design by Other Metro Furniture And Accessories IKEA
Modern Kitchen design by Other Metro Furniture And Accessories IKEA