how to deal with these stucco issues....please help
gav_sharma
December 21, 2013
We are young couple in our early 30`s and we bought a 1965 home in santa barbara california. Home isn't in a very good shape and has lot of deferred maintenance. We have spent last 5 months updating the interior and now finally we are thinking of improving the exterior.
Here are a link to some photos
https://www.dropbox.com/sc/c7ffu7mbcdiyxv2/2xT36xJaBQ
As you can see we have replaced all the windows and patio doors but the new stucco around the frame does not match the old wall color. Also, I have caulked multiple cracks all around the house. So here are my questions
1) How do I tell if the stucco has been painted before or not ? If it wasn't it would be much cheaper to do a fog coat of new La Habra Allegro 2 to change its color. It would be a easy DIY. If it was painted then I will need to get it sandblasted first or have to paint it instead. I prefer not painting as I think it will be higher maintenance in long run plus its more expensive as I don't think I can do a good DIY job on it.
2)I read somewhere that if you wet the stucco and it changes color then its probably not painted. IMG_1889 shows the wet wall. I can't really tell if this proves that its a stucco.
3) Some gables were removed during pest work and were filled in by cement as shown in IMG_1891 and IMG_1893. How do I smooth the surface before I paint ? Also as shown in IMG_1892 and IMG_1894 there was an area that was patched by previous owner. It was cheaply done and the surface is not flat and doesn't adhere with the stucco. How do I deal with this ?
4) There is a gap between the rafters and the wall as shown in IMG_1886. Should I fill that with some stucco patching compound ?
5)IMG_1901 shows that there is a gap between the wall above the garage and the wooden support above garage. Water can easily seep through this. Its wide enough that I can't caulk between it. What should I do there ?
6) IMG_1909 shows that there was a shed or a ceiling wall over the patio which was removed before I bought this place. There is still the steal metal bar inside the stucco poking out a bit. I would like to remove this or just temporarily hide it. What are my options ?
7) I have started to power wash the fence. I am planning to put a waterproof stain on it next. Homedepot sells Behr waterproofing stain and waterproofing wood protector. What is the difference between the two ?
8)IMG_1916 shows a gap in the bottom of the garage wall near the gas line. What`s that gap for ? Should I try to patch this or is this opening there for a good reason ?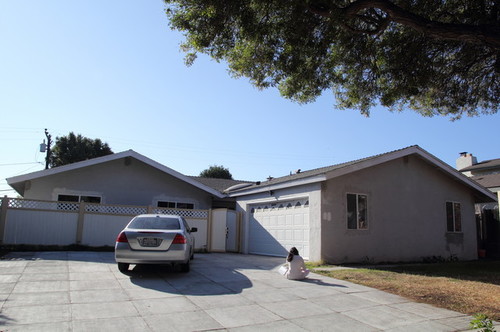 Here is a link that might be useful: home pics