Kitchen Layout- Where to start
So we've purchased a house that is in need of a new kitchen. The existing kitchen, which does not have a DW, is a single wall layout along the 10'8" wall, however the rest of the space is completely unused except for the refrigerator. Based on our budget, I do not think modifying / relocating the hall closet is an option. The rear door thats unlabeled goes to a full bath (the only bath on 1st floor).
We'd like a 36" range and 30" sink, some type of eat-at bar for a few stools and would prefer not to have the range in an island. I think its wide enough to cabinets on both walls with a center island, however we cannot for the life of use figure what to do at the big bump out. We are also looking for a relatively clean look, like the link below
We intend to work with an ID/ KD firm, however we're trying to hash out some basic concepts / layouts.
Any thoughts, opinion would be very much welcome.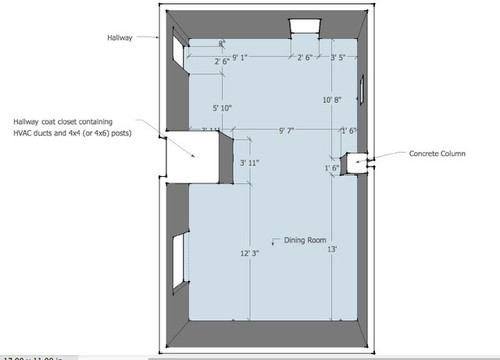 Here is a link that might be useful: Simple Kitchen
This post was edited by cmc274 on Sun, Feb 23, 14 at 20:53