furniture layout?
Phronesis
February 7, 2014
I'm part way through my remodel (loving the new kitchen which was the former dining room and also loving the new dining area which was a mysterious useless room off the deck) and am now planning on (a) putting french doors from the study into the living room to open things up a bit since the living room is very small and (b) buy grownup furniture.
My problem is I know I'd *like* to have two sofas (one regular size 79" and the other midsize 71" ) and, if possible another chair. But I don't know if the room would be able to handle it or, if it would, how to arrange them. I'd love to make the fireplace the focal point but I seem to be unable to figure out how to make that happen.
Currently, I have two large pieces of a sectional in there, but there's no french doors yet and I don't know if what there works or if I'm just used to it. The current arrangement is one couch against the wall opposite the front door and one with it's back to the dining area at a 90 degree angle with the first couch (and, thus, facing the fireplace)
Here's a picture of the layout of the first floor
Any thoughts?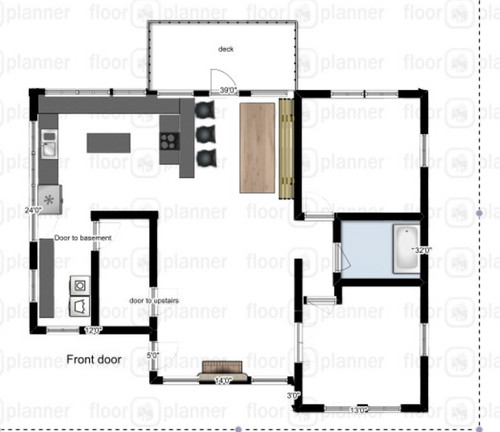 Here is a link that might be useful: couch I've got my eye on
This post was edited by Phronesis on Sat, Feb 8, 14 at 14:15