Need help choosing range hood and where to end glass back splash
I have been wrestling with the range hood decision for months, and now that the cabinets are in, I really need to order something. The range is a 36" Wolf AG with 4 burners and grill. The distance between the uppers is 48", so I can use either a 36" or 42" hood and have a little "breathing space" between hood and uppers. We plan to use a SS chimney style hood with the chimney going up to the 10' vaulted ceiling. The house is a 1960 California ranch with a mix of modern and contemporary elements. DH prefers the industrial side of modern to MCM. The kitchen is a mix of sleek and rustic (mostly the wood ceiling) elements.
Given the cabinetry, other materials and shape of the space for the hood, do you think it would look better with a pyramid hood or something sleeker? The Imperial hood is the best deal, especially since the price includes a custom-height chimney cover cut to any length up to 4'. I really like the shape of the Imperial, but then wonder if a pyramid would "fill-in" the space better and look more industrial, like DH likes. I wish I was good at Photoshopping pictures.
The second question is where we should stop the glass back splash. We are using back-painted sheets of tempered glass painted to match the Haze Blue color already on the range wall. The options: (1) stop right under the hood (at 36"), (2) stop in line with the tops of the uppers (at 98"), or (3) stop in line with the tops of the fridge and freezer (at 84"). Option 1 is cheapest and easiest, since we do not have to work around the hood. I have seen pictures of option 2 and think it looks really good, but we have to pay extra for holes to be cut for the hood, it might be hard to replace the hood if we have to, and I'm not sure how to deal with the chimney at the depth change from glass to drywall above (it might require the custom chimney cover to be deeper above the glass to maintain contact with the wall). My designer suggested stopping at 7' since there are other elements in the room that transition at the 7' mark; that height has the same issues as option 2.
Kitchen:

Hood options:
Imperial (36" or 42"):
42" Wolf (I like the curves, but this is the most expensive option, even on ebay):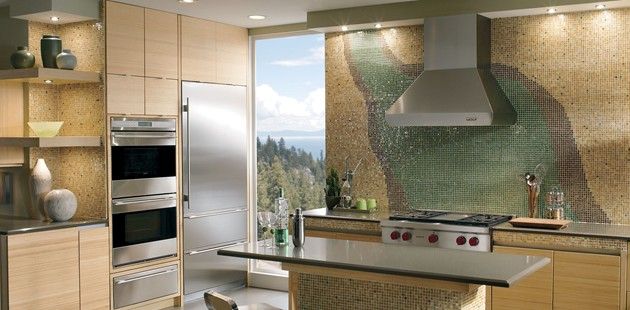 36" Independent:
Zephyr Venezia (36" or 42"):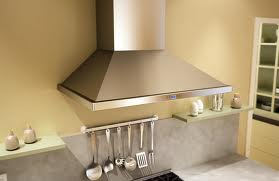 Glass BS stopping at top of cabinets:
Modern Kitchen design by New York Architect arctangent architecture + design [ aa+d ]
Modern Kitchen design by San Francisco Architect Tali Hardonag Architect
Modern Kitchen design by New York Kitchen And Bath Fixtures Poggenpohl
BS stopping at bottom of hood: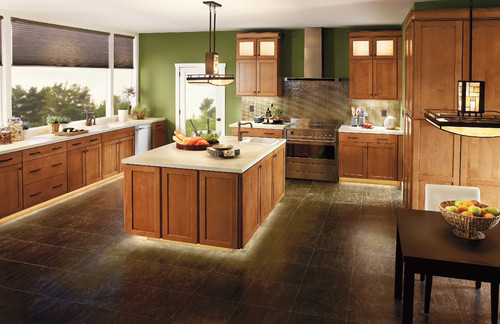 Modern Kitchen Lighting And Cabinet Lighting design by Cleveland Lighting Fixtures Kichler