Paint my garage door in accent color?
I have a small craftsman with a detached single car garage. The garage door is actually lovely and made of wood with a good amount of character. The layout is unique in that the garage door is more forward than the house, but again, it's detached off to the right side. I think the width of the house is about 20 ft, while the width of the garage is say 10 ft.
I was thinking of a Robin's Egg blue-green body, white trim, black or charcoal gray for the window sash, and either orange or red for the front door. Do you think I should also accent the garage door or just paint it in the white trim (which is currently the color scheme it follows)? If I do accent it, should I then go with a red which might be less dramatic than an orange? If I went with a bright orange (think, goldfish in a bowl), then should I definitely go with white for the garage door? Or should I choose a more rusty orange, and then it might be OK to paint the garage door too? (The neighborhood is suburban, but not so suburban that it cant tolerate some out of the box colors.)
I could only figure out how to post one picture, so the rest are in my picasaweb account. The garage door pic is a new one with lots more sun than the other exterior pics. Sorry, I dont have one picture with both house and garage in it. Note that in the pic of the garage door, the windows have pieces of white paper taped up on them (my tenants did this) so that's why it looks like its solid on the top piece with a dark border painted, but its not (though I like the look!).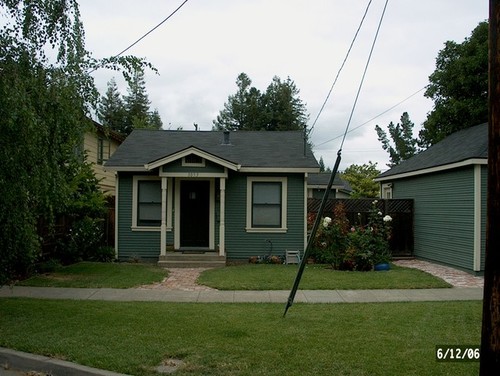 Here is a link that might be useful: Lexington Pictures