Ideas for Nip/Tuck: 1988 Kitchen Redone in 2002 (Pics & Album)
Our house was built in 1988, we bought it in 2005 and the kitchen was updated in 2002 by prior owners. I hope I don't sound too "whiny" about the things I want to change because we actually have a fairly nice kitchen, and I know a lot of people have terrible kitchens. We spend virtually ALL of our time as a family in this room (we have two kids, 10 and 7), and I use the kitchen A LOT. First I do have to say that I am AMAZED that this kitchen was built in 1988 (all the cabinets are original oak) because whoever designed the kitchen had some great ideas that still work well today. Anyway, in 2002 a prior owner painted the oak cabinets (including the hinges ... frowny face), replaced the pulls, installed granite counters and a travertine backsplash, refaced the fireplace in travertine, installed new appliances, installed under cabinet lighting and pendant lights on the island and installed plantation shutters. Since moving in we have had the original "orange" oak floors handscraped and refinished, replaced the french doors (they were in bad shape), replaced both skylights (for energy efficiency) and installed a new Hansgrohe faucet (prior faucet broke). One pic below and link to album under the pic.
These are the things we are thinking of changing but I would love any advice or input on changes you would make:
Repaint the cabinets. I'm guessing we should pull a color out of the granite? Open to doing lowers darker and uppers lighter? "Penisula island" a different color? Greys or whites?? The current color works well with the travertine backsplash but we want to replace that.
Replace existing cabinet hinges. Currently the hinges are mounted on the outside and were painted over previously. The paint has scraped off in places.
Willing to replace cabinet pulls if different ones would look better?
Considering putting glass in some of the uppers to break up the "wall of cabinetry"? I think the four upper cabinets to the right of the fridge might work (pics show with the doors open for a "test").
Change the existing 6" inch square travertine tile backsplash to something more current. I would guess we would need to keep it simple becuase the pattern on our cabinet doors and countertops are both busy? Subway tile of some sort? Would love something like the arabasque tile in beekeeper's kitchen but, sigh, I'm afraid that wouldn't look right here!
Replace the existing Thermador electric cooktop with a gas cooktop and probably replace the existing undercabinet Broan hood? We'd love a "freestanding" hood but I don't think that would be possible with our existing cabinetry set-up.
Willing to replace existing three pendants if something else would look better. But I do like how "streamlined" the existing pendants are because they don't obstruct anything.
Repaint entire room and trim (we've hated the "pinky" beige since we moved in 7 years ago). Ideas for colors?
Install window treatments. The glare is terrible in late afternoon but I do NOT know what to do with the large picture window, french doors and trapezoid windows combo that are currently "blank". It's very confusing!
Remove popcorn ceiling. Open to installing a plank ceiling with beams or some other ceiling treatment? The ceiling is extremely high and large and could use some "interest". We have 16 can lights in the ceiling currently. Would also be open to installing additional ceiling light fixtures if needed.
Need to replace the espresso leather bar stools. These are 7 years old (the Pullman from Crate & Barrel) and are starting to show their age.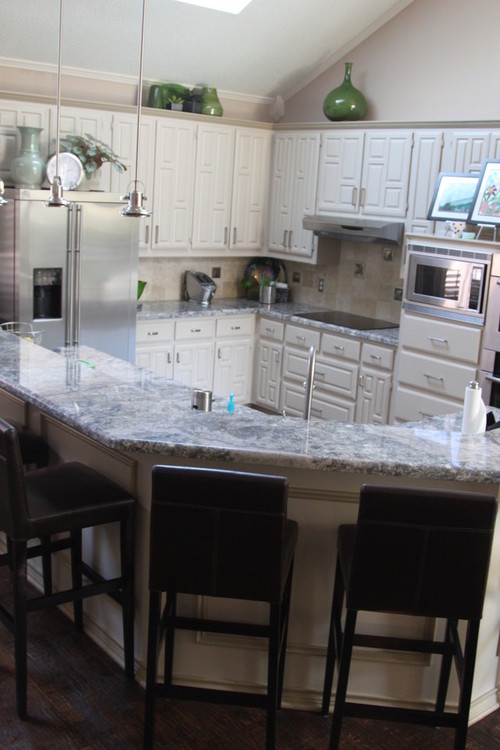 Here is a link that might be useful: Kitchen Pics
This post was edited by kiko on Thu, Feb 28, 13 at 20:46