Need to update country looking kitchen -Part Three
tinker1121
February 7, 2014
There had been so much discussion I have had to start a Part Three. Three hundred messages to date and I still don't have my floor, countertop or paint color but I sure have learned a lot about the options. Major stress is finding flooring that doesn't clash with the existing wainscoat and cabinets. Not painting the wainscoat ;)
I am sticking with the color scheme of cream, tan, golds with black accent from my last Olio board and not sure how to post more than one pic but will try. The formica here is Labrador granite and I do like it but exploring tile for counter top. Sink is also not a definite.
Keeping the cabinets which match this wainscoat and need a floor, counter, hardware, light and sink.
Today talked to our friend who is to install the floor and he thinks I should go with a tile floor after I expressed my disappointmen with the faux vinyl patterns I am seeing and how difficult it has been to find something that looks good with the oak wainscoat. He thinks it is beneficial to make an appointment with the decorator at the tile distributor he uses and I will take my fabric, cabinet door and paint samples. He assures me he will assist in making the project nice. I spoke to him about the tile counters and he has done them in the past and can take it on if that is the direction this goes.
Thanks to everyone for the ideas and keep them coming.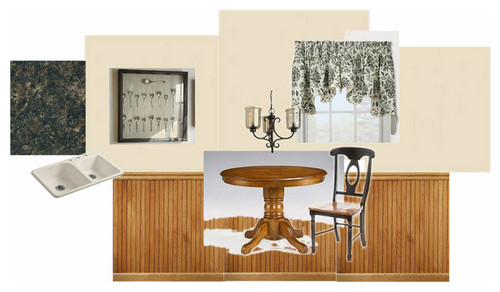 This post was edited by tinker1121 on Fri, Feb 7, 14 at 20:49