Shipwreck Pie
sleevendog
November 19, 2013
I make this all-the-time, all year round. Made one last weekend and took pics.
It is a one pan/skillet meal. At a recent family reunion, they all spoke of 'Shipwreck' being the most memorable meal when visiting Newfoundland over the past years.
The origins are not clear but it seems everyone in my coastal small village has a version and know what i mean when i speak of it or serve it. Newfoundlanders and Labradoreans who lived in isolated communities were often faced with the scarcity of food due to harsh winters. "We�re shipwrecked" was used when cupboards and root cellars were emptying.
All seem to start with the basics; potato, rice, onion, carrot. Any canned goods. Sometimes peas and tomato. Any fish or meat to finish, usually salt cod.
I suppose a modern version would be called a 'storm pie'. Or, starring into the pantry, 'quick-whats-for-dinner pie'. A snowed-in day, or a tree is down after a storm blocking passage. I don't use canned goods or tomato. Just what i have fresh. We all have a pantry full of favorites and anything goes that makes sense to taste.
This recent one i used my small 9inch cast iron. Just the two of us. I use the 12, 14, and the 16inch for a big crowd and stuff it!
Using up some last garden goodies and some flounder fillets we caught...brown rice and quinoa, black rice and lentils...
(I had grains left over and often make them ahead on sunday for lunches, but can be made just for this dish, a cup or two)
-the carrots did get a good scrub, lol. This is just pulling out what i had and deciding what to use...they are fresh from garden soil...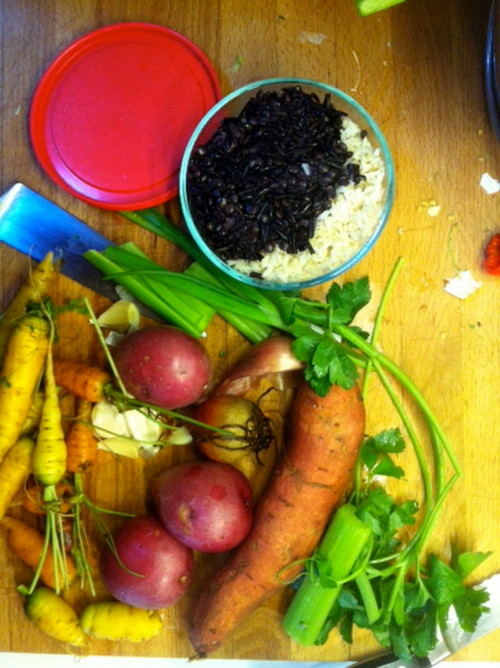 This post was edited by sleevendog on Tue, Nov 19, 13 at 10:38