Stuck in indecision land for exterior paint - pls vote!
We're about to paint our exterior and landscape the front yard. We'll be getting rid of all of the rose bushes and the shrubs in front of the house as well as the bush next to the garage. The rails on the front porch will come down to open up the porch, and we're hoping to put smaller plants (ferns, etc) in front of the porch to make the porch more open to the yard.
My inspiration is a warm gray exterior paint. The shutters, trim and garage door will all be painted BM White Dove or something along those lines. We'll paint the brick the color we paint the house.
Here's my inspiration: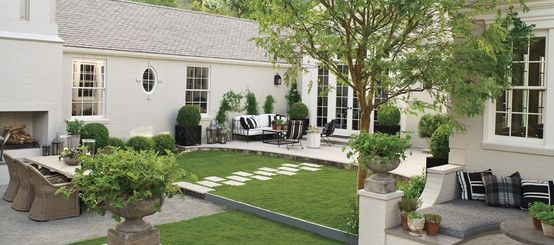 Does anyone have any ideas what color this might be? I saved this off Houzz, but I can't for the life of me find the source of this photo.
So, my questions:
1) What color front door? I was thinking BM Woodlawn Blue, but am totally open to suggestions.
2) Would you paint it a light gray, or keep it white? My partner is lobbying for white, but I'm ready for a change.
Here's the house:
Sorry this image is no longer available.
Sorry this image is no longer available.