Prehistoric Sharks
the_adams
February 12, 2007
So far this year two prehistoric sharks have been caught alive and have died quickly in captivity. It is rare to see these creatures who live near the bottom of the ocean and usually only surface after dying.
On Jan 25 the Goblin Shark (4'3) was caught by the Tokyo Sea Life Park during a fishing expedition after it was caught in fishing nets that were 550 - 600 feet deep. The shark was then put on public display and died on Jan 27.
During its short time alive in captivity the park was able to observe the way it swims and after its death it was dissected for studying.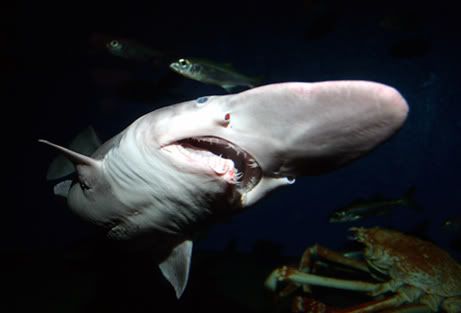 The Frilled Shark (5'3) was caught on Jan 21. Again, rare to see alive, it was spotted by fisherman. After being caught it was taken to Japan's Awashima Marine Park and placed on public display. This "living fossil", who is belived to have changed little since prehistoric times, died within hours.
Both of this mysterious creatures are believed to be near extinction. Since little is known about these creatures it is possible that their bodies may hold a cure or treatment for some human condition. And who can say what may be learned through studying.
But they ARE unique & almost extinct. What is your thought. Should we capture them knowing they will die within hours or days just to study them for the short time they are alive and then to study their corpse? Or should they be left alone, to preserve a part of our historic ocean?