Help with Kitchen paint color (w/pix)??
I'm seeing light at the end of the tunnel and hoping for some suggestions about paint color. We'd planned to purchase paint over the 4th holiday but didn't like either of the sample cans we purchased (BM Flora or BM Buxton Blue) Flora was too green/dark, and Buxton Blue looked like hospital scrubs (too green/blue).
The kitchen is dark-ish with only one small window, but opens into a bright breakfast room with lots of natural light. I want to keep it light and get away from all the browns in my granite and cabinetry. I'm looking at BM Quiet Moments, and also wonder about BM Palladian Blue. Here are some pix:
View from foyer to kitchen (note blue/green color here):
Island with old cabinet in background:
Main prep area: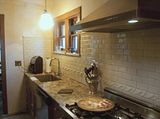 Any and all suggestions welcome!