Exterior paint color and roof color
We are in the process of replacing our roof. Our house is currently an UGLY ugly shade of mint green. A new coat of paint would do wonders but I'm stuck. I can't seem to pick a roof color until I commit to a paint scheme. I can't pick a paint scheme until I pick a roof color. I go back and forth.
These are the limitations: The gutters are almond. They can be painted (I think). The windows are vinyl and are almond. They cannot be painted (too much upkeep). We are adding shutters to the windows next to and above the porch. The garage door is paintable and the front door is fiberglass so we can paint or stain it.
I lean towards blue/grey schemes but making them work with the almond is tricky. Husband is leaning toward the Weathered Wood roof, I prefer pewter or a different grey but can be swayed to like a warmer scheme.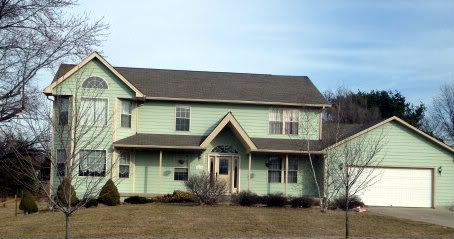 The current photo makes the roof look grey - it is not. It is a brown 3 tab that we are upgrading to an arch. shingle. Owens corning or Timberline colors are available to us.