If you were to grade this kitchen, what wipould you give it?
olivesmom
February 10, 2013
*darn it, I hate it when I mess the title up, please forgive. I really wish the edit function included title editing*
We are seriously considering this home. I posted a long thread over in buying and selling, as it isn't perfect but I still like it quite a bit. The kitchen is NOT my dream kitchen, and I'd like to hear from you kitchen experts on how awful the layout will be in terms of everyday usage.
I do LOVE that the kitchen is not totally open to the living/dining areas. That has been a top concern for me so I am very pleased that the openess isn't an issue. While the cabinets, countertop and backsplash aren't what I would have picked out, I think they are okay. The cabinets seem to be a decent quality and I like the stacked design, especially since the upper cabinets have that mesh insert which mimics the diamond patterned windows and light fixtures elsewhere in the house.
The appliances are a disappointment, all frigidaire. They put in a refrigerator and it as a cheap stainless side by side, frigidaire as well. I hate side by sides. The pantry is a decent size and has nice shelving. The cabinets still need the light rail trim piece installed (not sure how much work it will be to have that done and stained to match). The missing toe kick has been installed.
Not pictured is another entrance into the kitchen. There is a doorway next to the wall oven leading to the hallway and then formal dining room. The formal dining room is on the other side of the kitchen wall next to the pantry.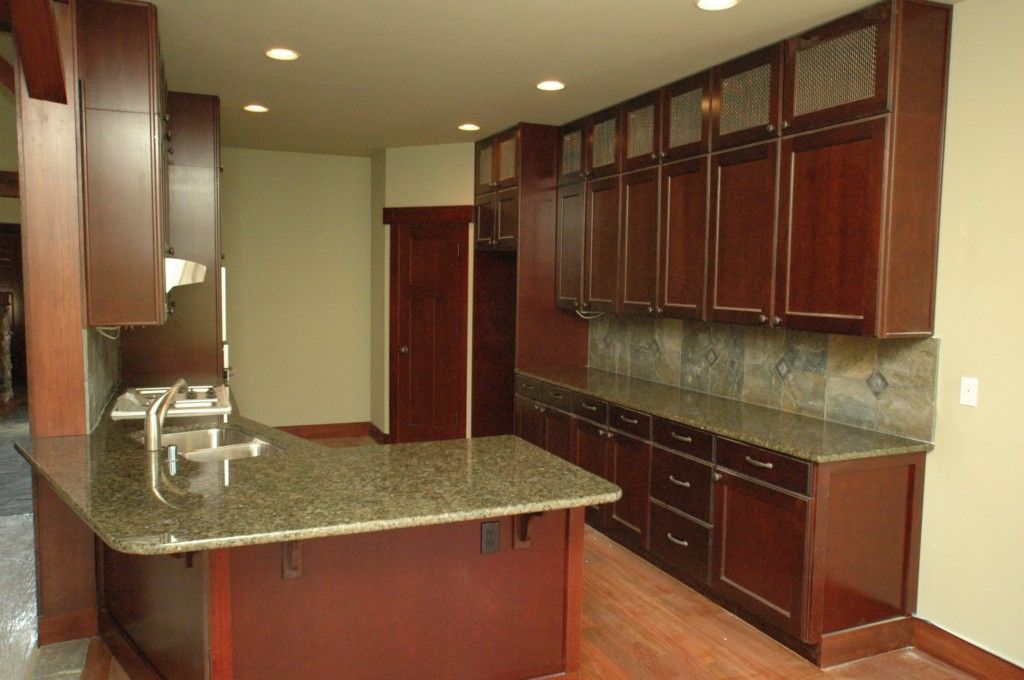 I am worried about the placement of the dishwasher right next to the angled sink. Where will I stand to load the dishes? I am also not sure about the prep space. I guess it will have to be on the open counter above the dishwasher. I do not think there is enough space in between the sink and the cooktop. I am also disappointed about the appliances. While it would be an easy fix to just replace them, it will not be easy to convince my husband that it is necessary. So I will be living with them if we are to purchase this house.
Your thoughts? Will it be a pain cooking and cleaning in this kitchen? I live in the kitchen it seems, so I don't want it to function horribly.
This post was edited by olivesmom on Sun, Feb 10, 13 at 18:10