Painting Exterior Stucco House in Florida...Acrylux?
Recently re-stuccoed chimney, first floor front of house & bottom of columns. I plan to re-paint entire exterior but can use some guidance on how to approach existing stucco vs new stucco.
Correct me, if I'm wrong but my initial research tells me I should apply one sealer/primer coat + two separate top coats of paint; each coat should be sprayed + back rolled??
Also, anyone familiar with Acrylux (www.Acrylux.com); a local paint manufacturer here in South Florida mostly known for sloped roof waterproofing systems?
I'd greatly appreciate your thoughts & opinions on them and their products.
I'd also appreciate any helpful input on the following proposal minus prep work, which I received using their house paint:
'-APPLY ONE COAT EMULSABOND ENHANCED 100% ACRYLUX PREMIUM HOUSE PAINT TO EXISTING PAINTED SURFACES. THIS WILL ASSURE QUALITY ADDHESION TO SUBSTRATE.
-APPLY FINAL COAT OF SATIN/FLAT ACRYLUX PREMIUM HOUSE PAINT.'
This sounds to me like skipping a step...kinda like a 'self-priming' exterior paint.
Thank you!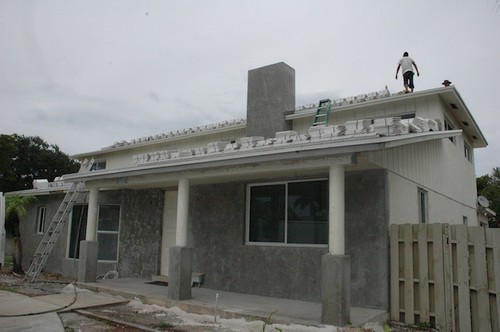 Here is a link that might be useful: Acrylux House Paints
This post was edited by f1668065 on Mon, Jul 29, 13 at 16:40