Paint colours for sea side period house
HelenDuignan
June 25, 2013
I have a north south period (1870s) house in Ireland right on the sea. It is villa style one storey over basement. The front of the house, facing the sea, is north facing. The rooms are large with high ceilings and detailed cornicing. The floors are polished timber and light fawn coloured carpets in hall and bedrooms. I'm struggling with paint colours.
1) The layout on the main floor (first over basement) is two rooms to the right and two rooms to the left of a long hall way. The rooms to the front (north) are the sitting room and the master bedroom. The rooms to the back are the kitchen and bedroom 2. There are interconnecting doors between the sitting room and kitchen, front to back, do the north facing sitting room benefits from the southerly aspect coming from the kitchen.
2) At the moment all the rooms are painted sail white - which is a slightly grey white. This is too cold and bland - even in the south facing rooms.
3) I was experimenting with farrow and Ball yellows - print room/India etc - beautiful warm colours - but they simply do not go with the seascape.
4) I then got samples of blue colours - and I love oval room blue and stone blue - which are very complementary to the general feel of house and the seascape, but I fear will be too cold, especially in winter when the sea is steel grey.
5) I considered using print room yellow in the front north facing bedroom, blue in the hall (which runs from north at the front to south at the back, where there are glass doors and the sun shines in) but I am trying to achieve flow between all the rooms - and while blue and yellow do go together, they also might jar, being so different.
6) So I am looking for a palette of colours that a) complement the sea scape b) provide flow between the rooms and hallway and c) address the coldness of the north facing rooms.
7) I am a bit wary of the greys (Elephants Breath/Lamp room etc.) because they are quite faddish and fashionable and may not age well.
8) Has anyone any ideas? Perhaps I should be sticking with neutrals throughout but feel the rooms can take stronger colours, given the ceiling height (approx 12 foot) and the amount of cornicing, architraves, high skirting boards etc. that can offset the deeper colours.
All advice great fully received!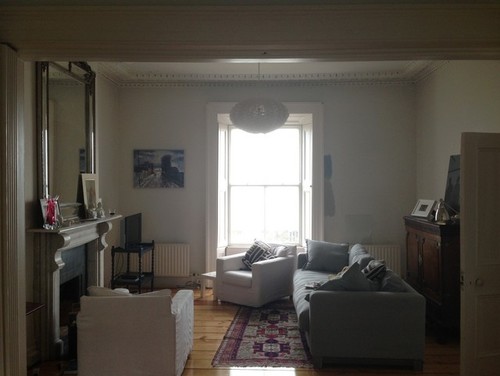 This post was edited by HelenDuignan on Tue, Jun 25, 13 at 5:32