need help desperately - sw pro classic acrylic paint cracking
Problem: My newly refinished cabinet paint is cracking in two areas of my kitchen. I don't know what is causing it, or how to correct it. I'm in fear that it will happen to the rest of my kitchen. =( I'll take ANY advice!!
Story: In January 2011 - we purchased an 1970's home and did a complete renovation on the house. The kitchen cabinets were in great condition and are solid Birch so we decided to keep them. We currently have new cabinet doors being made.
Process: I've redone cabinets before, followed my same method to a perfect tee, and never had any problems. The cabinets were all sanded with 80 grit and then BIN Shellac Primer with Stain Blocker was applied. After they completed dried, I sprayed the cabinets with a $50 Wager sprayer for HD. The paint is Sherwin William Pro Classic in Semi-Gloss. The paint was thinned out a little with water...and I mean JUST A LITTLE.
I've noticed these hair line fractures on both sides of the cabinets when you are looking out the kitchen sink window. Also, in one other place...inside at the bottom of the kitchen island. I've inspected everywhere else and do not see any signs.
Solutions: I have NONE and can't find anything on the internet. The only thing I can consider is that I live in Houston where the humidity is pretty high, and think one possibility is that that wood is contracting and expanding. However, I've used this same technique on a previous house 20 minutes away and never saw anything like this and they have held up 3+ years.
Picture Before Renovation:
The problem area had decorative trim slats that ran up and down. Since these were stained and added on by the previous owners, they were removed and the original cabinet surface was exposed matching the rest of the cabinetry.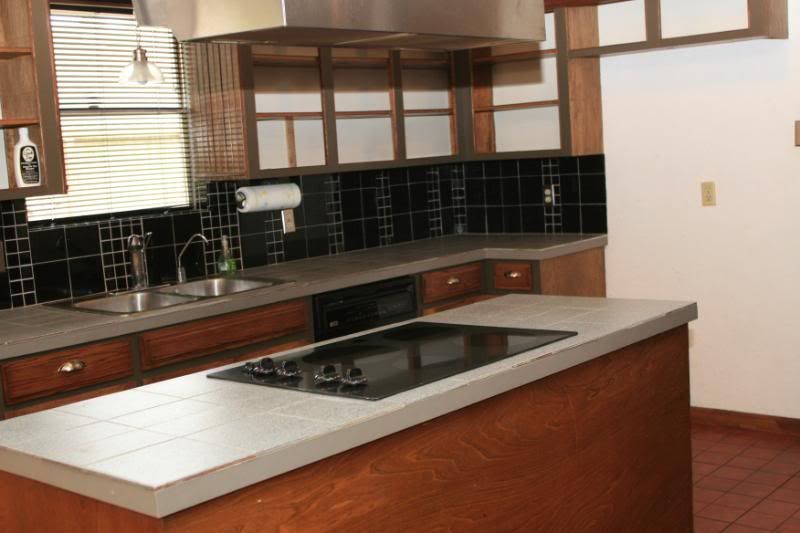 Picture After Renovation (Still unfinished):
Problem Area: Above the kitchen sink look out the window
Close Up of Cracking: