KD Visit
So, meeting with KD happened this afternoon. She came in with FIVE sketches! It was a little overwhelming, and, given the size of my kitchen, I don't know that anything will be 100% of what I want. I'm linking to an album with all the proposals. Posted here is the current layout (her version, which is probably clearer than the one I did & posted a couple of weeks ago) and the design that came closest to everything I want.
She's going to re-draw this option to:
- Move the sink to under the (new) west-facing window rather than on the peninsula.
-Get rid of the powder room she drew in the southeast corner of the kitchen (she thinks I should have one on the first floor...) which will make more room for a pantry closet.
-Due to plumbing lines where she initially put the new western garden door, the door will get shortened from a French/sliding door to a regular sized door, and kitchen table will go on the other side of the door.
I'd love to hear your thoughts.
Existing Layout:

Proposed Preliminary Layout: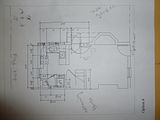 Here is a link that might be useful: All 5 Kitchen Layout Options