Barn Red. A Long Story
I laugh at the trouble we all go through picking paint. It's just paint, but we agonize about it. Sure, at 5'2" I hate to paint because of the ladder, but again, it's just paint.
I had a blue barn. It was collapsing from neglect, termites, & water damage. At 2000sf it was too much of an asset to let just fall down and look crappy.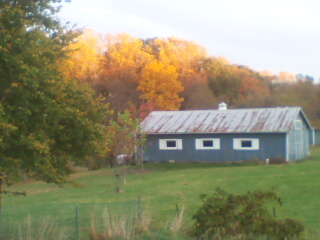 I hired a guy who does good work & he replaced all the walls, dug away the dirt grading had piled against the end, and turned off the water that filled the frog pond.
I've always wanted a red barn. A dignified, big red country barn. So that was my paint color. Easy, right?
I was working a lot. At probably my 23rd shift or so, he called to say they didn't make barn red paint anymore, just stain. We needed paint. Sounded odd, but he brought me chips. I was too busy & exhausted to figure out why that didn't fly.
I asked why he couldn't match it elsewhere. He answered, "I was at HD." Somehow, that was supposed to be an answer...I picked a red. Outside, in the sunlight. 10 seconds & I picked the brownish red I could see. Now, as you'll see later, I am not even certain he bought that paint chip when he went back.
I got home to find I had an incredible electric, bright, shiny red barn. We're talking walk by the window, see it, and stop, exclaiming, "Oh, My God that's RED!" But I picked it. It's hard to see in the shadows of sundown, but....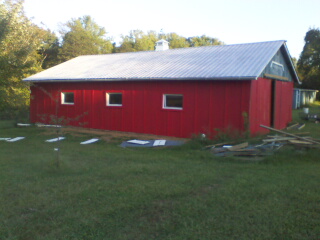 A week or two later, after my 37th shift, I had a morning off & went to Lowe's for stuff. I was exhausted. Cranky. Hot & sweaty. And truthfully, pretty much needed a shower I was so frustrated. Walking down the aisles, I looked up to see.. aisle 13. The 1st item was BARN PAINT.
I think I swelled up like a tick. I stomped down that aisle my words were in sync with my stomps. "There'd better not be any G!@$* D#*$! Barn Red Paint down here."
But lo! There, in front of me, were 5 gal container after container of exterior, acrylic latex barn red paint! I almost imploded. I took a pic & sent it to him saying, "Don't you dare put another speck of paint on my barn."
I bought it & he repainted w/out a word. I loved it. The barn I'd always wanted it to be.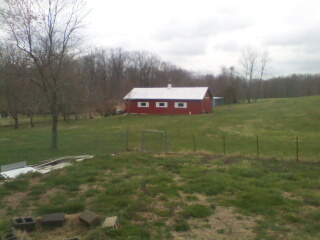 I went out to check it out & saw it needed a 2nd coat. The bright red bled thru in many places, plus I could even see the blue on some edges. Not done but no big deal.
When he later was all happy & said, "Well, the painting's done and we only have to hang a door." I laughed out loud and said, "Oh, no it's not. What would make you even think that!?" and explained why I felt that way.
Here we go:
He said, "Well, we'll give it another coat. But Christine, you know I'm color blind!"
I almost fell over dead.
(After my 42nd shift, we finally hired someone. I got a day off.)