Removing paint from weather stripping?
happygardener23
April 10, 2014
Two days ago I had a painter come in and do some painting of the exterior of my home, including painting my front door white (previously painted a rust color). Unfortunately, in addition to painting the door he also painted the "weather stripping" material around the perimeter of the door frame, where the door contacts the frame. Because he painted both surfaces, they now stick together whenever we close the door, even though we provided ample dry time before closing. Additionally, when we forcibly pull the door open, the paint gets pulled off of the door in the areas of contact, revealing the rust-colored paint beneath and generally looking awful. The paint also pulls off the weather stripping and sticks to the door.
I contacted the painter and he basically said oops and that he painted the weather stripping because it had some of the rust-colored paint on it and looked unsightly (I'm not sure that I recall that, and it doesn't look that way underneath as the paint is pulling away and sticking to the door, but I guess I'll have to take his word). He said he hoped that once it dried it wouldn't be a problem but obviously he was wrong. He said that we can try to remove the paint from the stripping or replace the stripping and he would then come back and sand/touch up the door.
The stripping is old (about 30 years) and in good condition and I think it will be difficult to replace (the painter said he's never seen stripping like it). I'm thinking that my best option is to try to carefully remove the paint from the stripping, but I'm not sure what to use that won't damage the stripping material or the painted areas around it.
I'm hoping to put my house on the market within the next 4-6 weeks and have a project list as long as my arm. I had actually hired a painter (woo hoo) to help and now I'm left with another project on my list as a result (boo!) If anyone has suggestions I'd really appreciate hearing them.
*trying to attach photos of the weather stripping-I'm pulling it forward to show how it "accordions"; the door with paint loss, and the door with paint transfer. Hope it works.
ETA: The weather stripping photo shows the area with the most "unstuck" paint. The majority of the weather stripping is still completely paint-covered.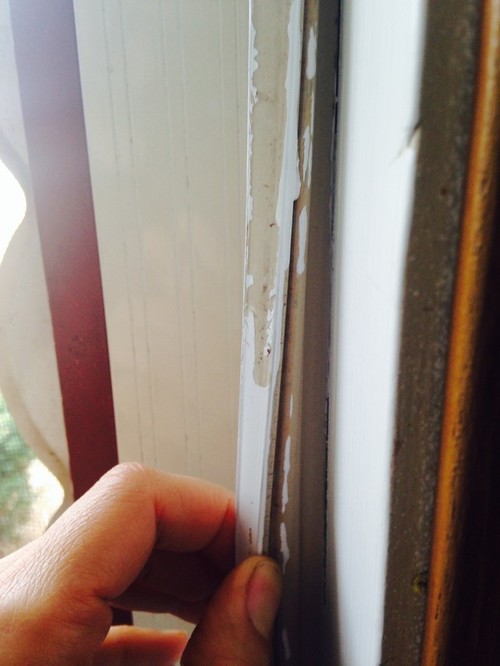 This post was edited by happygardener23 on Thu, Apr 10, 14 at 11:05