Does this Kitchen Plan Make Sense?
I have been lurking here for a few weeks and have been blown away by how much knowledge there is on this board, so I decided to introduce myself and my project.
My husband and I have purchased a 1929 bungalow-style home on a lake, and we are doing a whole-house rehab before moving in, including a small addition on the lake side of the house. As I'm sure many of you can relate, I am obsessing about the kitchen the most. I am posting our tentative kitchen plan here for feedback, as well as a follow-up comment that shows the proposed layout of the whole first floor, as drawn by our architect.
The rough plan here is from a designer who works for a cabinetry vendor we may use. As I look at the plan, I am a little worried that the kitchen is too small relative to the rest of the first floor and that perhaps the layout could be improved for better work flow.
Some information about me: my husband and I both cook a lot, often together. We have one young son, 18 months. We will probably have one more child. We also are part of a dinner club and like to entertain, so our kitchen can get crowded. Our current kitchen is about a 10x10 square, so we definitely want the new one to feel more spacious. We also have a fair amount of gadgets (stand mixer, food processors, etc.), so storage is a priority in our remodel, as well as the ability to accommodate at least two cooks.
The formal dining room and the living room are the only 2 rooms on the first floor that are remaining intact in the renovation, so location of walls as drawn is not set in stone. One caveat is that the righthand wall of the kitchen "U" probably needs to stay, since it is attached to an original built-in Craftsman hutch on the other side (dining room) that we don't want to disturb.
I am open to redrawing the whole kitchen if need be, to maximize space and utility. Any feedback or alternate ideas would be much appreciated! I feel like we are in over our heads.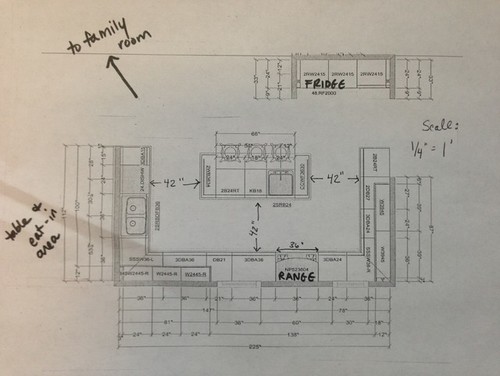 This post was edited by sbp725 on Mon, Feb 11, 13 at 16:28