Coupla update pics! And some nature, too...
Well, if slow and steady wins the race, we're a cinch! Nonetheless, I have received my first base cabinet today and right on schedule if being right on schedule means a month late but lets not split hairs...
So, here is the sink base and pull-out trash which cab guy made as one cabinet (apparently he likes to do it this way for some reason). No drawers yet as they are being ordered today and then he'll do the drawer fronts to match the trash door. I chose a simple router edge to the drawer fronts as DH really wanted to let the white oak be un-fussed with. He cut and sawed this oak decades ago and now to see it take shape... I think it's gratifying for him.
Also, kind of excited to have drawers in my sink, thank you very much to GW for that idea! The pretty copper sink is sitting there thinking she's the Queen of the kitchen, but only because she hasn't met Big Girl yet. Enjoy your time in the spotlight, copper sink.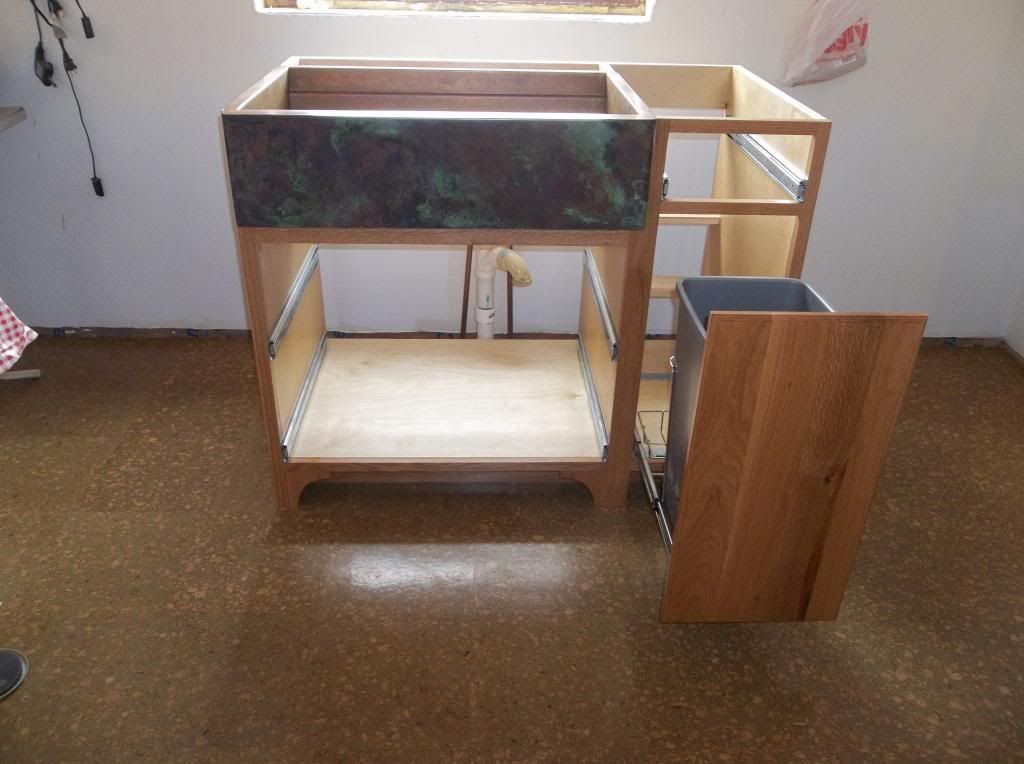 I can't believe I'm actually seeing this sink NOT in a paint program image!
And the little feet detail turned out nice, too.
Here we have the center part of the Weaver tile back splash... border tiles yet to go but real happy with how this is turning out, too.
Long view of the whole kitchen which looks really like a bowling alley in this pic for some reason. Excuse the mess but it'll be there for awhile methinks:

And for any of you that still remember back to my layouts where I was trying to find a place for my Grandmother's hutch... well, here she sits in the spot we made for her... sorry this pic is so dark, it really doesn't do justice to the old girl. Added a close-up of the painting (Spanish galleon?) on the front of the doors and the pretty inlay trim. Globes will be moving but there are just so many places to set stuff at this point, lol. Any flat surface is fair game.
I just treasure this piece of furniture and would have been heartbroken to have to give it to my sister (who would have been thrilled, sorry sis).

So, tomorrow DH heads off to get us some plywood for a temporary counter and then will plumb in the sink and DW (yay!).
I think I can see a light at the end of the tunnel... it's a ways off but I can make it out now.
Oh, the nature shot. Look at this goofy squirrel hanging by his hind feet to be able to get to the bird seed wreath.