Oak kitchen appliance color
megs1082
February 10, 2014
My husband and I are under contract on a new to us house. The kitchen is stuck In the 80's and has those wonderful oak cabinets. The spindles along the top are especially nice ;). We'll cut those off, but will be out money for any major kitchen renovations as we'll be spending money on some replacement windows and siding. The home is a foreclosure and the bank put in a new, very basic, dishwasher and range. They didn't purchase a refrigerator. I'm torn on what to do with the appliances. My husband says the easiest and most cost effective solution is to buy a black refrigerator and be done with it. We'd have all matching appliances. I really don't want a cheapo (it isn't even self-cleaning) electric stove though (I enjoy cooking) and would prefer selling it new on craigslist. I also always assumed I would choose stainless appliance, if given the chance. I guess I see us as having 3 options.
1) Go my husband's route and just buy a black fridge
2) Sell the stove and buy a stainless gas range, and stainless fridge. Both of which are likely to have some black on them and could tie-in the black dishwasher. At some point I could look into buying a stainless panel for the dishwasher.
3) Keep the dishwasher and stove, and buy a stainless fridge. Hope the appliances they bought are cheap enough that they will die soon!
My eye for design/ability to envision "what could be" is really far worse than I would like. Any opinions on what would actually look better with the oak cabinets? Would stainless further date the space? I've never liked black fridges --- they always seem to just look like huge black boxes to me, but if that would look best, I'm open to it. As for future plans, I think at some point we will paint the trim in the rest of the space. The backsplash will be going at some point. Even further out, when the finish is beyond help and I no longer have toddlers to work around, I think we might consider painting the cabinets. I don't want to count on that though.
Sorry the picture is rough - it's from the listing and I don't have a better one.
If this was your space, and major renovation was out of the question, what appliances do you think best fit now, and leave room for future options?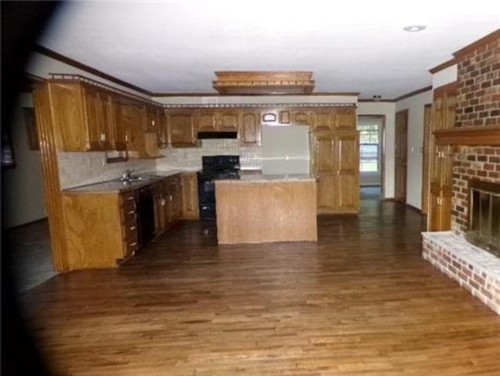 This post was edited by megs1082 on Mon, Feb 10, 14 at 18:03