Ugly Duckling to Swan-Kitchen Eye Candy
juliekcmo
February 9, 2014
I have been meaning to post this for a while, just as a thank you for all of the wonderful advice I have received on GW over the years.
Backstory. We were happy and content in our large home in a traditional older neighborhood. House built in 1931. Kitchen remodeled in 2002. It was my dream kitchen to be sure. But time marches on, the kids start to graduate, and we crave less yard work and house work. Long story short, about this time last year we decided we had "had it" with dealing with the snow and the yard work and decided to think about moving to a "no mow, no snow" subdivision where the HOA takes care of these problems. The one particular neighborhood we liked was built 25-30 years ago. So the home we ended up buying had not ever had much redone, and that meant we got a good price, but needed to update everything pronto right when we moved.
The kitchen had a lot of good features. Solid oak cabinets, plenty of storage, nice window, laundry in the kitchen, an island, wood floors, and room for a large kitchen table.
However, it had original formica counters held together with scotch tape, an island downdraft coil cooktop with a non-working fan (so basically no ventilation at all), and a 27 inch wall oven micro that killed the feeling of continuous counterspace.
Our contractor from our old house look at the new place and assured us that he could find a way to make a 30 inch range and hood work where the 27 inch wall oven was. That sealed the deal.
Here is what we bought: Pictures are from PO from the listing.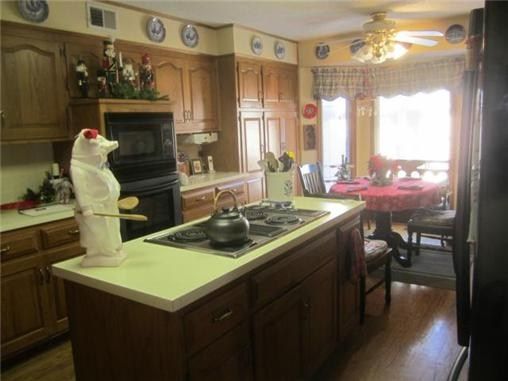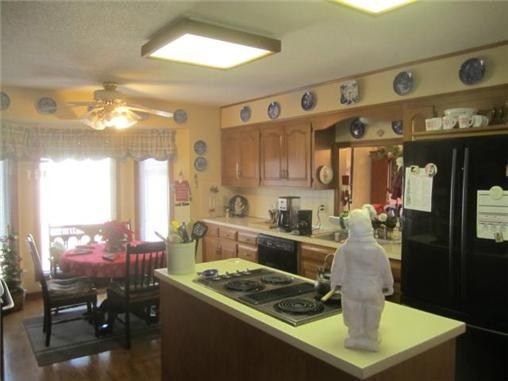 (yes, I know. See the thread on Is staging worth it? on the home decorating thread)
So here is the result with the basics fixed. Contractor did some woodworking magic to add range and range hood where he removed the oven/micro combo. Plumber installed gas line for new range. Samsung all gas range. Has amazing 18,000 btu and 15,000 but front burners. Also added 600 cfm hood and ducted outside through wall behind oven.
Removed coil top and formica on island and put in John Boos maple butcher block. On side of island cut recess and put microwave there below the counter. Had electrician put outlet at correct height on island near countertop for using appliances, and outlet inside cabinet to plug in the microwave. Had new Blanco wave sink (Amazon) and Hansgrohe faucet (Costco) installed by plumber (reused existing disposal). POs took their refrigerator with them, so we were able to get a counter depth side by side which was better for the layout then what they had before.
Tile guy removed formica countertops and 4x4 basic backsplash. Now have 12x12 porcelain tile counters (almost exactly like we had in our old house). We were even able to use some of the accent tiles left over from our old house. We got the tile all from the "back room" at the tile store where there are over runs and special order returns, so got exactly what we wanted and got a great deal as well.
In a nod to the arches on the cabinets, and pulls on the oven and refrigerator, we selected new pulls that are satin nickel Mission style from Lowe's. Very clean and enough of an arch that a man's hand fits in them.
Handyman put in new ceiling fan with better light fixture and satin nickel finish.
We decided to leave the square ceiling fluorescents at this time, even though I have 2 just darling LED pendents that I got for $19 each on clearance in the garage. Not sure about diving into the popcorn ceiling issue of it all.
At this point we had also been tackling the bathrooms with stripping wallpaper, and painting cabinets, and I was just about out of energy.
My angel of a DD told me that even though she knew I liked the kitchen "fine" as it was, that she knew that I really wanted to paint the cabinets. But that I had just run out of gas. And would I trust her to do it? So she and one of her friends (both going into senior of college) took on the monumental task of painting the cabinets for a solid week in August. As a thank you, we bought their gas for the road trip they took to see a friend in California, so everyone was happy with the outcome. The did an amazing job. Then DH and I did the walls and got a new table and chairs for my birthday. I wouldn't change a thing except to maybe get those pendants up. All in all very budget friendly.