Can I offset my cooktop?
Hi Everyone.. First I want to say thank you to everyone here at GW for the input I have received regarding ovens, layout and now sinks.. But I still find myself in a pickle and I am looking for input and ideas.
Here is what I have so far.
24 fridge only 24 freezer only
24" Smeg speed oven. I'll give it a whirl.
30" wolf under counter (e or l)
24" dw either Miele or Bosch 800
30" induction cooktop.
24" Gagg combi steamer
2 Sinks (Nantucket, Kraus) ?? was to be Ticor
This kitchen is on the smaller side with 2 cooks.. A galley of all things makes it more difficult. I think we have managed to create a design that will work for two but here a list of the issues I see and can't seem find the resolution to and would appreciate input.
1. The most recent design plan shows a window. I could lose it and may have to if I put the oven and cooktop in the new location. Which brings me to the subject of this post..
2. Can I offset a cooktop to be 1/2 over or maybe even 9" over the oven? If I can, I can keep 42" of counter space..
3. How much landing space do I need next to the steamer and above the oven? I show 21 now. It was more and could be if I flipped the design and have the oven next to the fridge? with the cooktop overlap over there? I'm not a fan of sticking hot things next to cold but thought I would ask. I would have a 21" landing by the fridge and 42 next to the steamer.. but only 21 over the oven.
5. If I put the oven in the new location will my dishwasher and oven butt doors? I wonder how often I would have them both open at the same time..
6. Do I need a 33" sink base for a 30" sink? Can I get away with a smaller sink and base? With the 2nd sink on the same run..
7. Do I need a ton of room on the side of the freezer under the speed oven? Is 30 too much?
1. I have included the most recent plan
2. A plan with the dishwasher and oven door causing a butting door issue?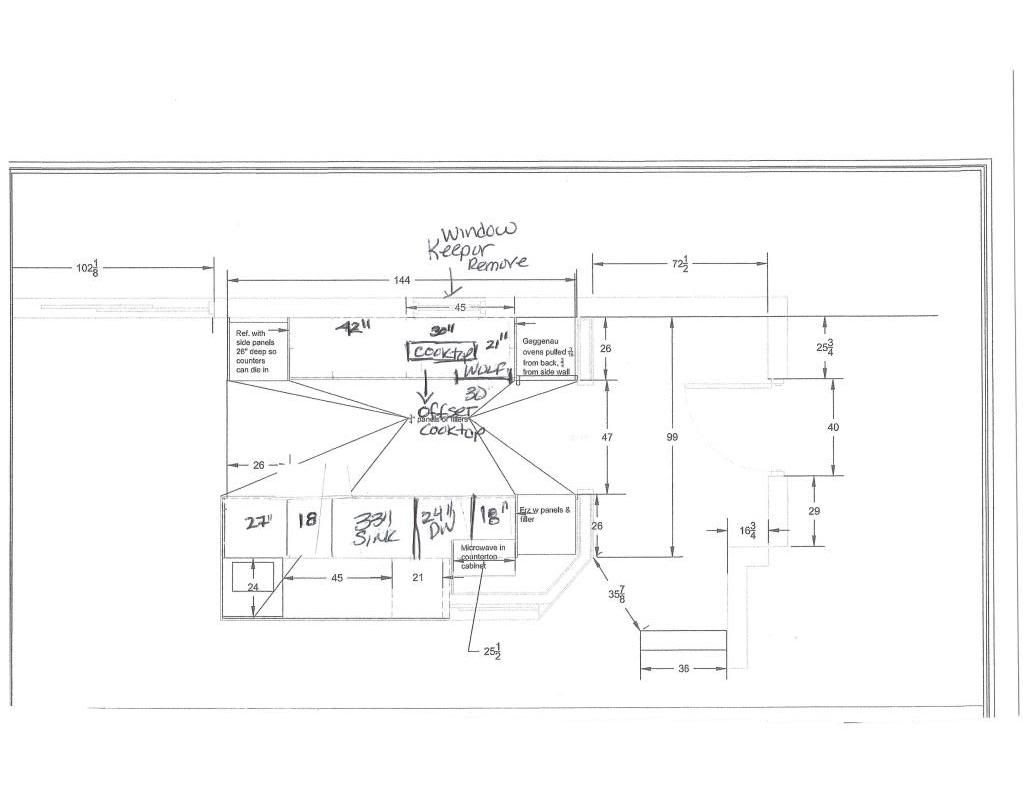 3. A plan with the dw moved to the other side with a big landing/prep under the micro and freezer.. Do I need that?
4. A plan with the dw move to the other side with a smaller landing/prep under the micro.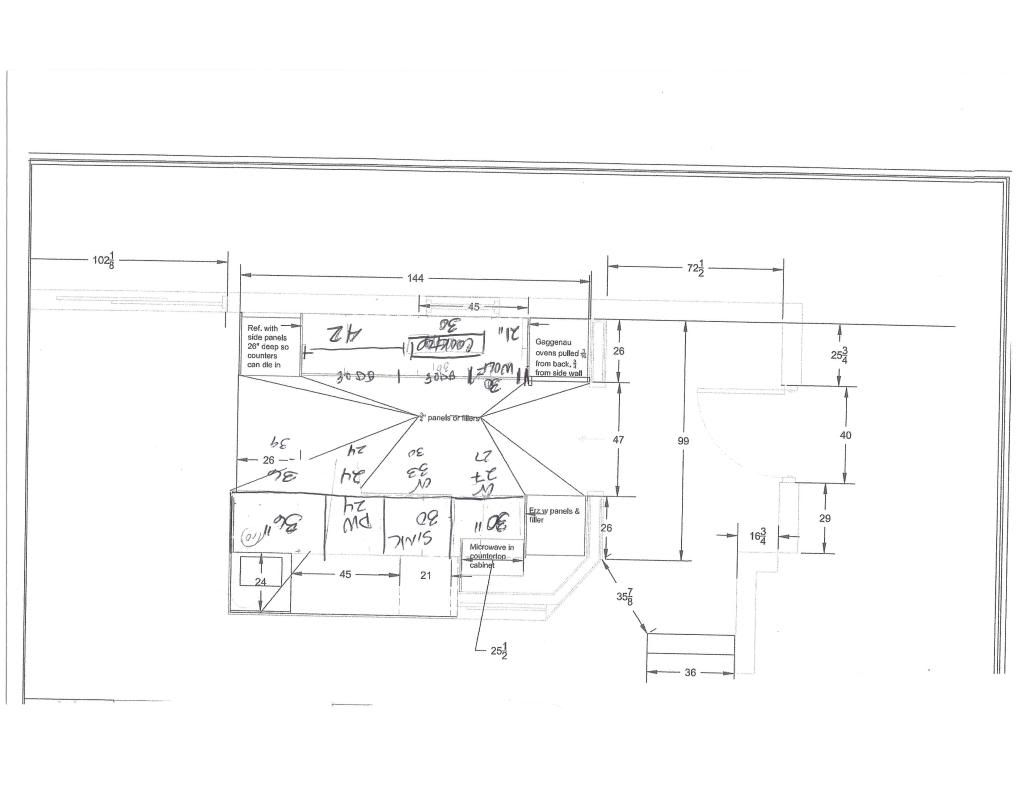 I have not ordered cabinets and had the sinks picked out until Ticor bit the dust. With great input and research here at GW, I have narrowed the running to Krauss and Nantucket.
Thank you in advance for the input.