Layout - closer to final!
Carrie B
February 12, 2014
Thanks so much sena, prairiemoon, bpathome, smiling and everyone else who has been so much help to me so far!
I've drawn a (more or less) to scale drawing of the kitchen as I think it should be. As indicated on the sheet, each graph square is (about) 6". I have plenty of photos of current layout & of the rest of the house. Just let me know & I'll embed any of those on this thread.
The area that I'm least sure of is the partry/fridge wall. The fridge & pantry cabinet could get reversed and/or could be positioned to open in a different direction. I'm also not sure what type/width/swing the kitchen door will ultimately be - will consult w/ the KD about dimensions & budget for that.
So, please let me know what you think, if this looks workable and/or I'm forgetting anything vital.
I think I did a pretty good job measuring and making sure things were to scale, but there were a few places I had to fudge a bit - perhaps you'll notice some other errors.
A few notes for those who haven't seen my previous posts:
-My house has an adjoining home to the east.
-My garden is primarily a side garden to the west of my house - a lot the essentially the same size as my my house, and a back yard that is about 12 feet deep, and goes around to the side yard. The front door lets out to a sidewalk.
-I live alone, don't cook much, and plan to stay in the house for a long time.
-I entertain roughly quarterly, but those gatherings are largely pot-luck. In warmer months, the parties take place largely outdoors.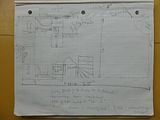 This post was edited by carrieb on Wed, Feb 12, 14 at 17:54