Help with Reading room / Library decor and furniture arrangement?
sargentja
February 20, 2014
I could use some help figuring out what to do with my reading room, particularly with furniture arrangement.
It is a southeast-facing room with a bay window. It's a fairly small room (17'9" x 11'6", not including the bay window), with design-around-obstacles of french doors to the living room (where TV & large couch are), and a door to the deck and an angled uncased doorway to the hall.
Here is a diagram with measurements: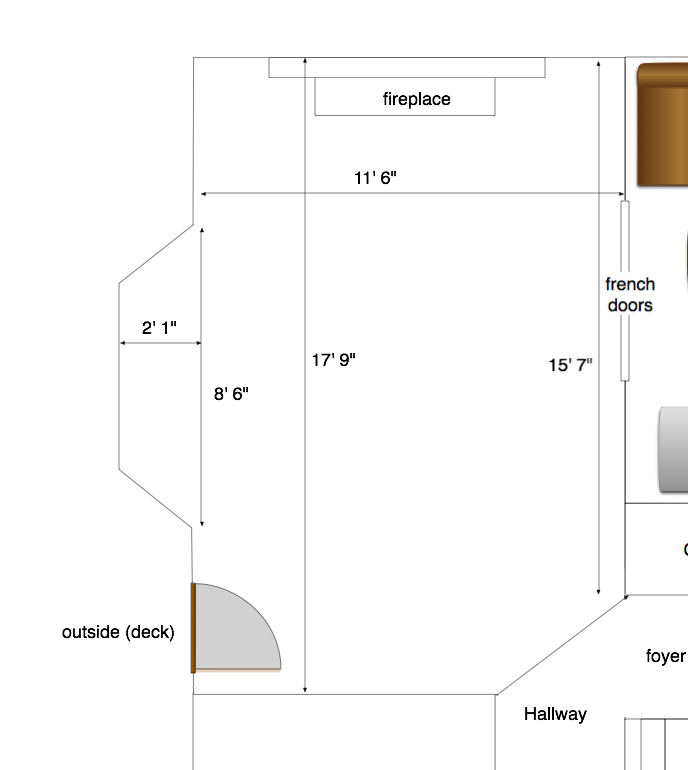 We are about to paint the room, so it is currently empty.
Here is with the furniture just moved out (ignore the dents in the rug from furniture legs)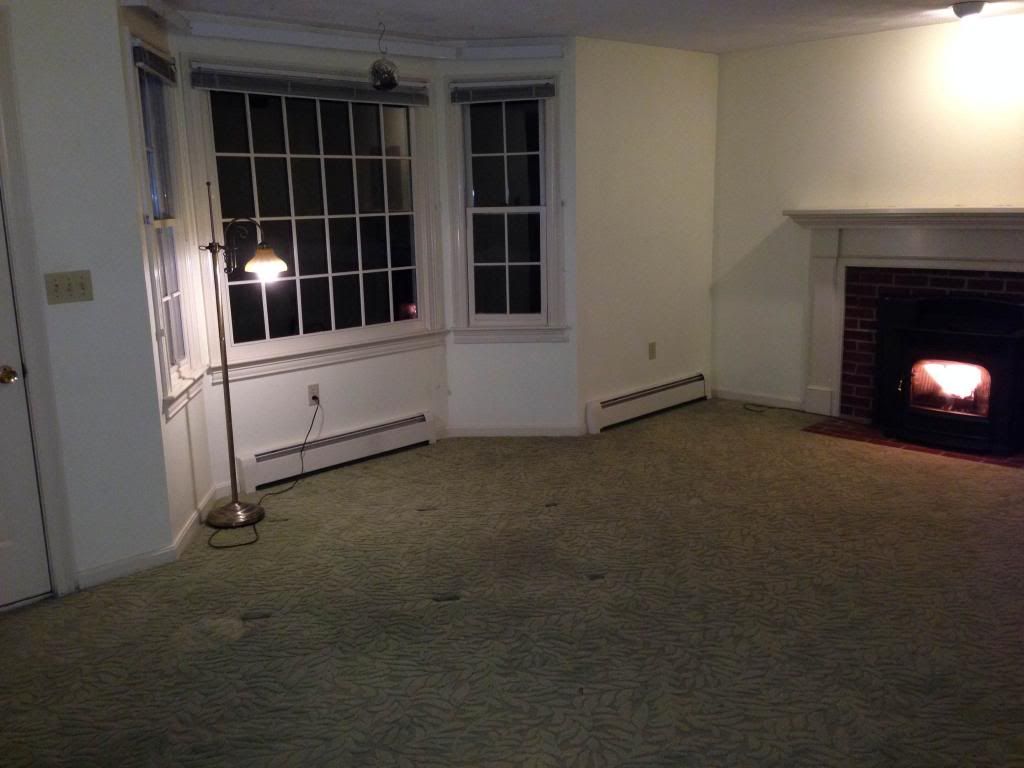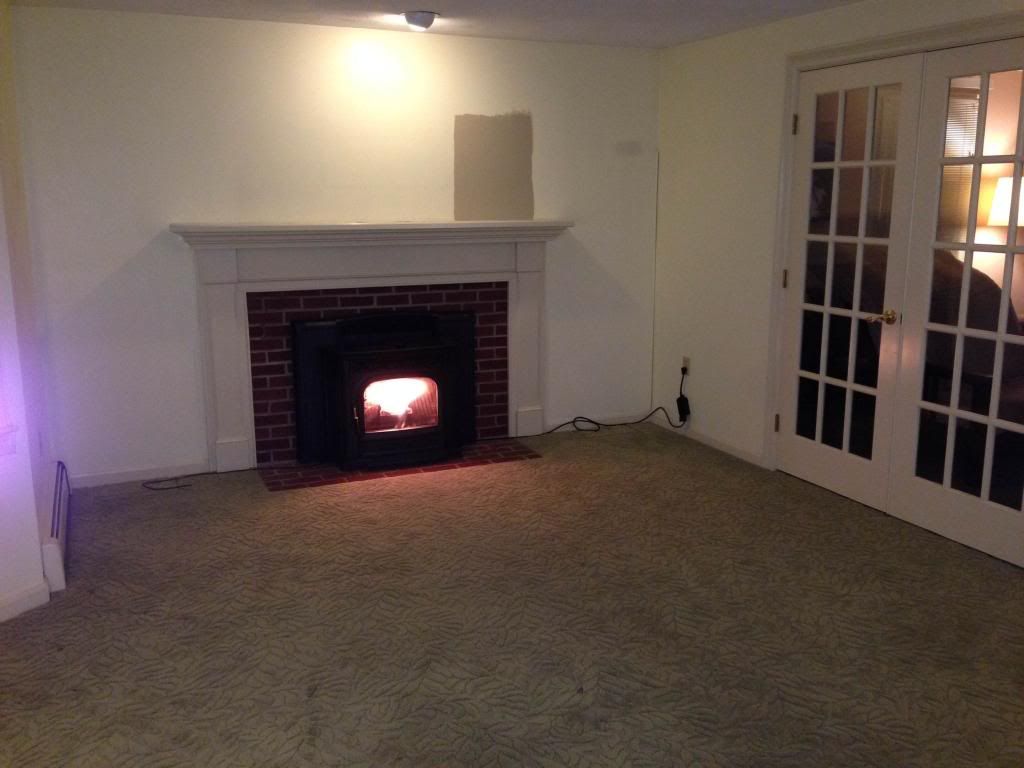 I had the following contents in it previously:
two off-white leather small chairs, one matching ottoman and two small side tables by the fire
six bookcases of varying sizes containing 56 linear feet of books
several plants in the bay window
a mission chaise-style twin futon in a striped cream and tan fabric (functions like an adjustable mission-style chaise, nicer than it sounds) and side table
a small dark brown leather chair and ottoman and side table
two floor lamps (and one recessed light)
arranged like this: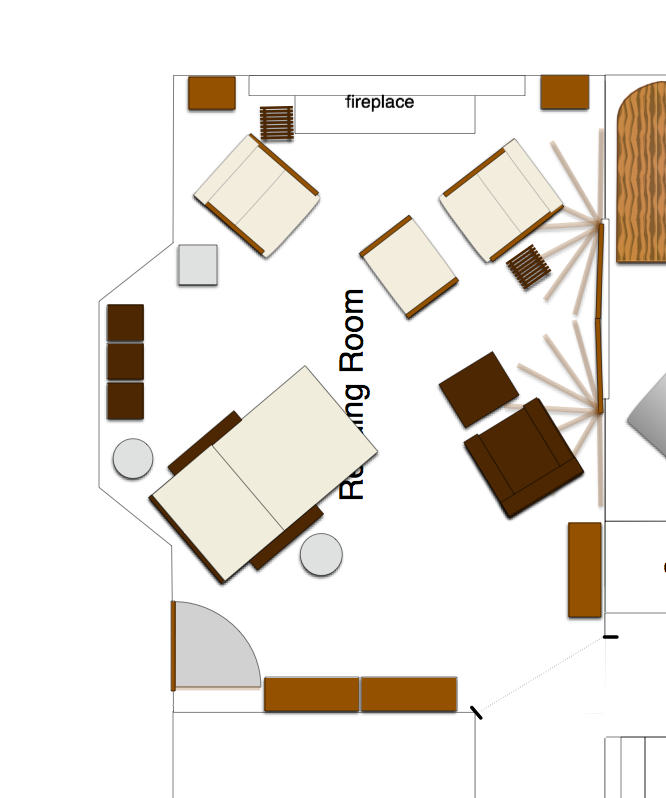 After emptying the room for painting I can clearly see there was too much stuff in it. It looks so much bigger empty. So rather than immediately diving into looking at new furniture I am hoping for some help editing and with general arrangement first.
My goals for the room:
I want the room to primarily be GREAT for reading (which means comfortable chairs with good lighting and a place to put my feet up) and enjoying the fire. We're in New England so the fire is appealing nearly half the year. We have a nice view of our backyard out the window.
The room needs to regularly accommodate two people, sometimes four. When there are more people we can bring in chairs or people can sit on the ottomans.
Here's what I don't want to change:
I love the carpet.
The fireplace & pellet stove are staying.
No structural changes to doors / windows / etc.
The doorway to the hall continues through the back of the house so I do not want to add crown molding.
At least a couple of plants should stay in the window
I'd rather not change the trim paint as the whole house trim is that color and due to the open doorway it would mean changing the trim in at least half the first floor. I'm a little concerned about its undertones though.
Here are some things I could change:
The furniture - it's all ok stuff but nothing great or with deep sentimental value; I could replace one or two pieces - buy a better chair, a small couch, a few good bookshelves; but I can't justify replacing it ALL at once.
I could probably cut down the number of books significantly. Maybe to 40 linear feet, possibly a bit more.
I could build and paint some built-ins, but I'm not sure where they would go exactly and how they might fit with the mantel if they were on that wall.
I've thought about putting a small desk in the bay window but I don't own anything suitable at present. That might be nice for days when I'm working from home.
I like generally neutral color schemes. I was planning to go with something like this:



Where the brick red is introduced with the brick, pillows and other accents.
Any ideas or suggestions? Thank you in advance.