Skeleton Hallowe'en Card
Red_Confetti
October 22, 2005
Now this card isn't a quality-crafted card, but it is for my Mom who has Alzheimer's Disease. She isn't critical of the things I make for her!
The skeleton is from the Ben & Jerry's site in the link below. I put it together with dental floss, loosely, so the bones could rattle.
I got carried away with making the images smaller for this site, so I bet you can't read the front verse - it says "Shake, Rattle and Roll this Hallowe'en" - didn't want anything scary for Mom.
I didn't have any of that fake spiderweb stuff, so I used some polyester quilt batting, stretched out for the webs.
I used a pair of deckle-edge scissors to cut out the pieces.
(Unfortunately I used a glue that made 'bubbles.' Even though I pressed the card overnight between paper towels and a stack of heavy books, the bubbles are still there. Mom won't care!)
I used one of those 'eyelet' things in the top of the skull, then ran a fairly long loop of clear fishline through it, and then through a couple of slots at the top of the card. This is so the skeleton can be hung in my Mom's room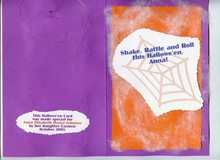 Front and Back of Card Above
Inside of Card Above
Here is a link that might be useful: Hallowe'en Crafts at Ben and Jerry's Site