Help with painting sloped walls
kpaquette
December 11, 2008
Not sure if this is the appropriate forum for this, but...
We are renovating our Victorian mansard, and are starting to discuss moldings with the contractor. This led me to the paint issues we have with the upstairs, since the walls are sloped due to the mansard roof.
I am very anti-wallpaper, even though it would probably add visual interest to the rooms since art can't be hung. What I was thinking was maybe to install a molding about 8-10" down from where the ceiling and wall meet, painting the molding white, and then everything above the molding (wall, ceiling) a color, while everything below the molding would be another color. I've seen examples of this in rooms with straight walls, but would it work with mine? BTW my ceilings upstairs are almost 9'.
Here's an example:
Here's my room: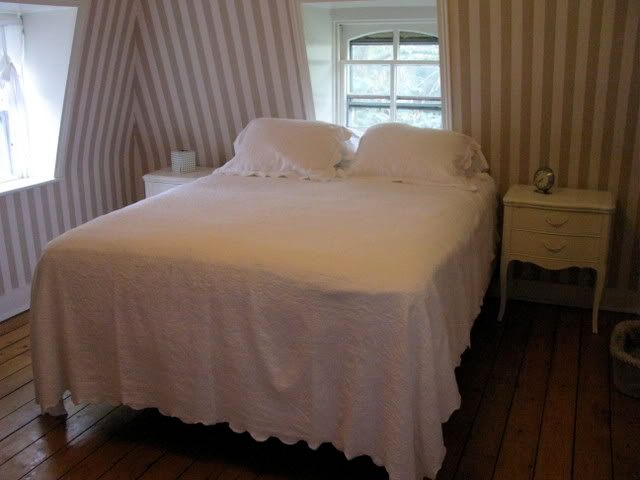 Sorry I dont have a pic of the wall meeting the ceiling, but there is no crown molding and won't be because of the slope. I was thinking of also adding a ceiling medallion stencil around the light fixture to add interest.
if that isn't a good idea for my sloped walls, do you have any other suggestions? I am thinking the ceiling should NOT be white - either the same color as the walls or a couple of shades lighter, if I stay with a monochromatic look. But I'm not sure how this would look if there is no molding to act as a divider.