Bungalow Bath Finished!
equest17
February 15, 2013
Thanks for all the help, you wonderful Gardenwebbers! During the remodel process, I posted questions on the Bath forum, too, but I got lots of support over here on Home Decor, so here is the reveal!
We just finished a budget bathroom addition to our 1924 bungalow. We love our very original house and have been doing a (mostly) DIY full restoration for the past year and a half. But the house only had one small bathroom downstairs and we couldn't convert any of the existing rooms because of water supply and drain issues. So we hired a general contractor and had a gable addition put on the upstairs rear of the house for a "family bath" (it's essentially the master bath, but since it's off the hall, it can serve the other bedrooms, too). I designed the gable and layout, and sourced/purchased all the materials and fixtures. To stay within our tight budget, I bought from eBay, Craigslist, and sales/clearance at the local big box stores. We also laid the floor and painted. As expected with any old house remodel, we had a number of snags and unexpected changes, but we're very pleased overall, especially given our budget constraints.
The attic space before the addition:

And after: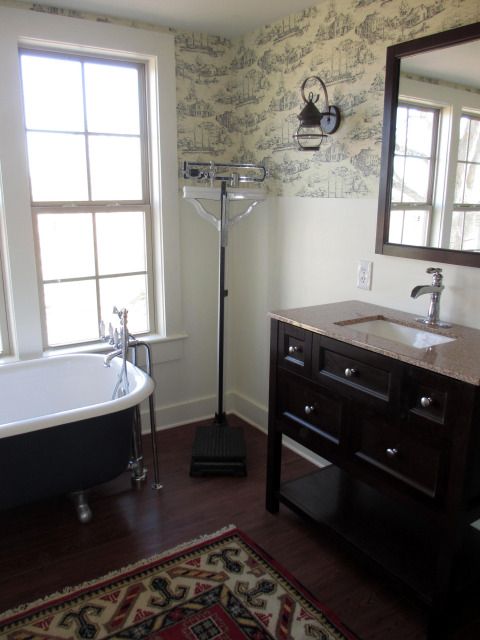 And because my husband insists a bathroom needs privacy (although we overlook 30 acres of pasture!), here's a night shot with the cafe curtains I hung.
When I can stomach the expense, I'd like to install top-down, bottom-up cellular shades, but these are cute and cheap for the time being. The room still lacks the Craftsman wainscoting, the matching lantern over the tub, a doorknob, shelves for the niche, and some accessories. But we're so excited and relieved to be at this point. There were days I thought it would never end, and nights I feared my vision had run amok. But the pangs are over and I would do it all again!
I regret not having more closed storage, but it wasn't an oversight. To preserve the symmetry of the house, we matched the gable addition to the existing front gable. That gave us a rather square room with lots of floor space in the middle and large triple windows. We couldn't bump a closet into the knee wall space on either side of the gable, and I couldn't figure out how to build one in and keep an attractive and functional arrangement of fixtures. The new toilet ended up 15" from the wall because of a floor joist, so I had that section of the wall furred out and a built-in niche framed. I plan to have doors made eventually, so that will hide the less attractive bathroom necessities. And our downstairs bathroom has a large, deep closet, so lesser used items will just be stored there.
My other big regret is the flooring choice. I don't like tile, and we wanted a wood look in keeping with the 3" pine throughout the upstairs. We've used luxury vinyl planks in a bathroom before and were very happy. But I was limited in choices this time because only one brand came in a narrow width. Novalis has 4" planks, while everyone else has 6". I took a chance on the cheap Novalis, and I regret it. They scratch, burnish, and dent like crazy. And they have a grooved texture that holds the dust and dirt so I have to sweep with the "grain" to clean the floor. They seem to stick pretty well and were easy to install, but I won't use them again. Hopefully the worst wear and tear is over now that the workmen are done, but I'll have to live with all the flooring scars.
If anyone wants the details, here are the basics:
Vanities: St. Paul 36" espresso (special buy at Home Depot)
Tile: Merola cobalt and white basketweave for shower floor and niche; Lowes stock subway tile for field; Lowes clearance white chair rail and pencil liner for accents; Mapei Silver grout
Marble: Home Depot thresholds for niche shelving and shower curb
Faucets: Delta Victorian chrome shower and vanity faucets; Price Pfister Savannah floor mount tub faucet and risers
Tub: antique 1920's Kohler from local flea market, painted BM Hale Navy
Toilet: Danze Orrington
Lighting: clearance exterior lanterns from Lowes
Flooring: Novalis vinyl planks in Gunstock