Will it look ok to set my faucet off center?
robo (z6a)
February 23, 2014
Hi all!
I was planning to set my faucet (Delta trinsic) off center.
If centered, I will have to reach around it to use the handle of my awning window, which I will find mildly annoying. There's no issue with operation (awning handle will not hit faucet).
Around the sink is so symmetrical that I'm not sure it's going to look ok off center. Wwyd?
See below for how it looks centered. Well, kinda centered and being held up by painter's tape. I hope this picture shows right side up for you.
Ps I have one orange, one black, and one grey and white cat, so my kitchen REALLY matches my pets!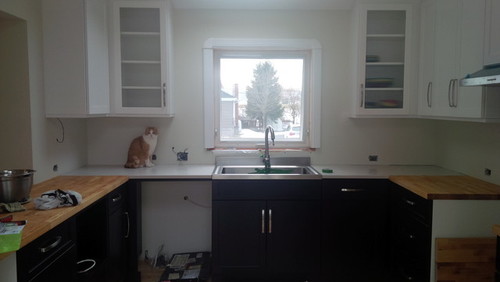 This post was edited by robotropolis on Sun, Feb 23, 14 at 14:02