Coat Closet
dilly_ny
November 23, 2012
I'm new to the organizing forum, though I occassionally lurk. I just finished building a kitchen extension and it includes a coat closet. Or former kitchen, small as it was, also had a coat closet. The new closet is 54"wx24"dx96"h on the interior and has two 18" doors.
Issues: 1)The rod is mounted at 72" high, which is too high for my kids to hang up their coats. I am thinking I need to lower the rod. I originally installed the rod high up so that I would have more room below the shorter coats for storage. 2) Although I planned for 2 kids to hang up their backpacks in the garage adjoining the kitchen (we don't have a mud room), it just doesn't happen. Their backpapcks are quite heavy for the hooks, although they do support the weight. We do not park our car in the garage so its not on the out the door track. Plus, as the weather is getting colder, I am not sure freezing backpapcks in garage is ideal. I was thinking the bottom of the closet might inspire more consistent application of "put it away."
This closet should ideally store coats, hats, gloves, backpacks, work bags, extra curricular items (changes seasonally) and DR table pads. I had originally wanted to get cubbies such as the Brookstone multi use cubbies for the bottom of the closet, but the size is wrong. I want something to utilize the full depth of the closet. I am willing to have something made. Or I was thinking of using milk crates.
Thank you for any ideas! Here is a picture of the closet (excuse the mess) and a link to the Brookstone cubbies.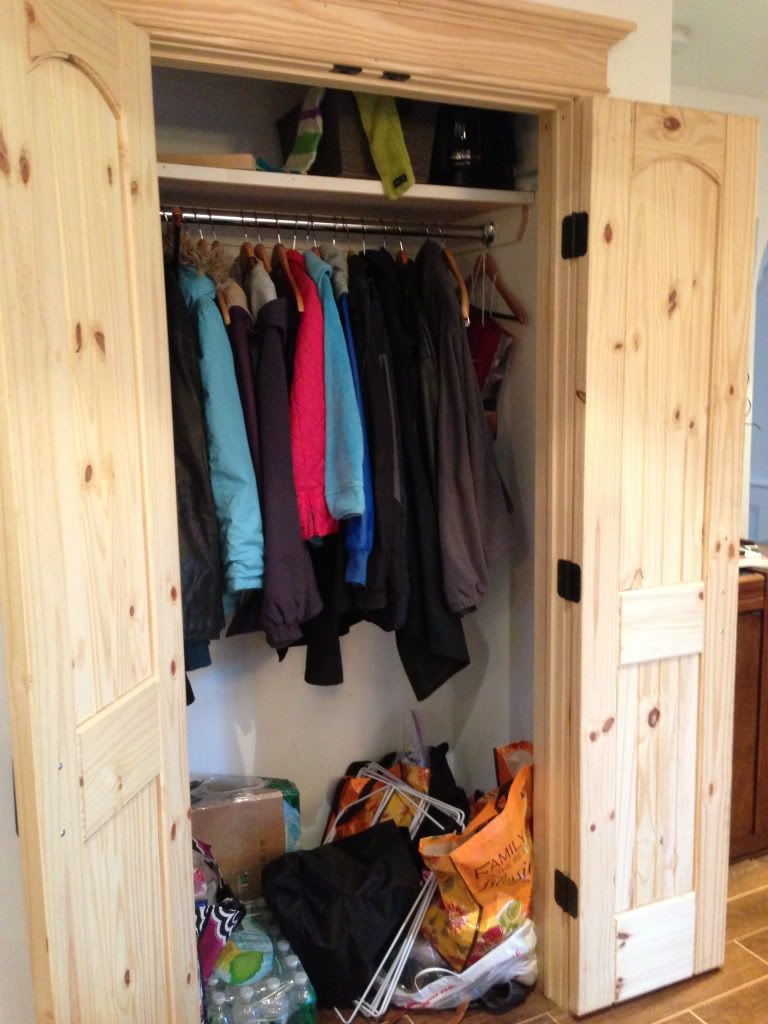 Here is a link that might be useful: Brookstone cubbies