Small Laundry Room Help
Hello. I need your help. We have an incredibly small laundry room that is laid out weird. It was the one room that was on our "cons" list when we bought the house. It's only 3 feet wide, and the washer @ dryer sit on each end of the room. I've added a drawing of it at the link below. The laundry room sits in between the garage and the kitchen, so we walk thru this room several times a day.
I'm about to start some upgrade in the room. This is what I have so far:
1) Right now, over the W&D there is just wire shelves. I'm going to install cabinets.
2) Thinking of putting a shelf above the door on the left for a little extra storage.
3) Add a rod so that my wife can hang clothes more easily as she pulls them out of the dryer.
Any other ideas that I should consider? Is there anything that can help with the sorting of clothes. We have a laundry basket in our bathroom. I'd like to have something on the wall in front of the washer that allows us to throw clothes in it. I'm thinking like a canvas bag or something that is tall and skinny? Not sure. What do you experts think? Appreciate the help!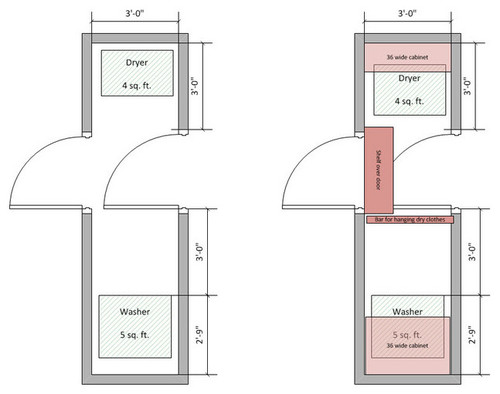 Here is a link that might be useful: My Drawing