A childs closet (about time I got back with this pic request)
igloochic
November 21, 2008
I was asked some time ago to take pictures of my son't closet oganization system (we had a local cabinet builder build it for $1200...which included install). His closet is pretty "normal" at about 8' long and 24" deep. This isn't the finished product...We're still unpacking, so those shelves without bins will get them (all the same baskets) and all of those big boxes on the bottom will go (they're fabric to make him huge pillows for the floor). He's 3 and we figure he and his future friends will spend time there someday.
I buy things in advance, so all of those shoe boxes are the next size up. He still has a large dresser for tee shirts, pants, jammies, belts, hats, etc. And the top section is his "future" clothing since I like to buy at sale prices. But the rest is his normal stuff. I like to arrange by it's style (ie sweater vests, suits and coats are on the bottom and button down and casual golf shirts are on the top area).
Eventually the crap on the top shelf will go (stuff for the room as well...batting etc) and be replaced with the baskets. On the deep portion of the closet I have all of his bedding tucked away.
Oh and the lower rods are removable so an adult could take one out and hang longer items (If they wanted to sleep in this monkey room LOL)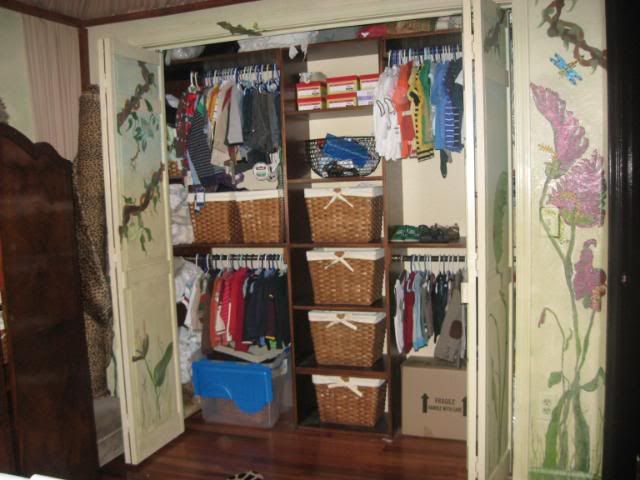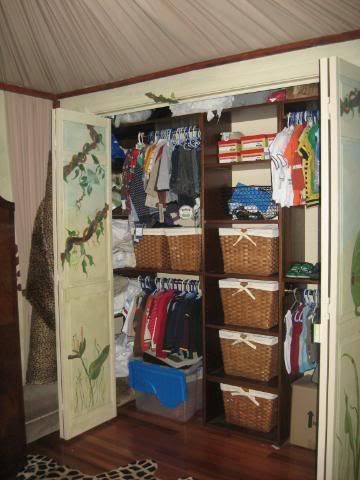 Sorry this image is no longer available.