Terri -
solsthumper
September 21, 2007
I can't sleep, so here I am. And here's the recipe for the cookies. I know I've talked about adding some of my favorite recipes to my site, unfortunately, I haven't done that yet. And have many excuses as to why - some of which are even true.
Regarding the following recipe, it yields cookies which are soft and somewhat delicate, due to the moisture content of the apple. So avoid stacking them, or they may stick.
Btw, I often try to give credit where it's due, however, this is an old recipe I've had since High School . . . about 5 years . . . give or take :-Ã. So I have no idea where it originated.
Apple Oatmeal Cookies
¾ cup butter
1¼ cup packed brown sugar
1 egg
¼ cup whole milk
1½ teaspoon vanilla extract
1 large apple, peeled, cored and chopped
1 cup AP flour
1¼ teaspoon cinnamon
¼ teaspoon nutmeg
¼ teaspoon baking soda
½ teaspoon salt
¾ cup toasted walnuts, chopped
3 cups old fashioned oats
Preheat oven to 375°F. Combine flour, baking soda, cinnamon and salt, set aside. In mixer bowl, combine butter and sugar and beat until light and creamy, 3-5 minutes. Beat in vanilla extract, milk and egg. Add the flour mixture, oatmeal, chopped apple and walnuts. Mix just until combined. Drop by Tbsp. (I use an ice cream scoop) onto parchment lined cookie sheets. Bake for about 15 minutes.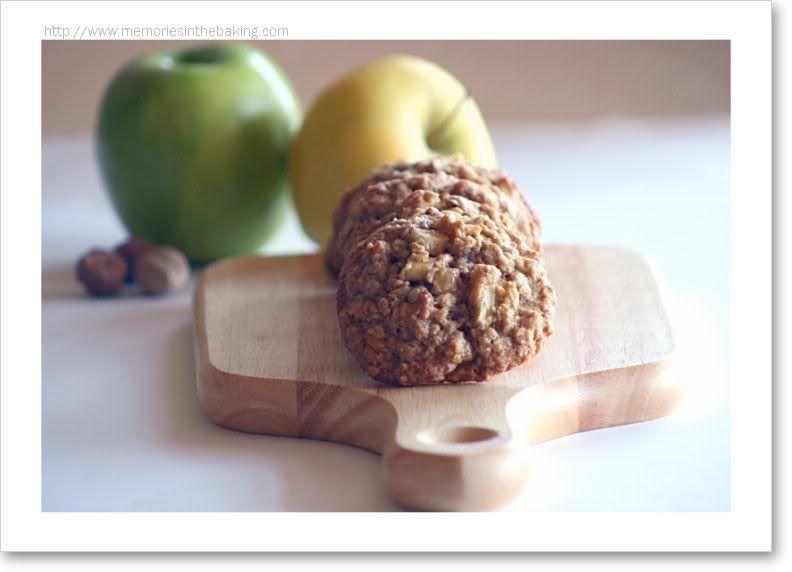 Sol