Salsa blanco?
annie1992
September 6, 2012
Yes, I know that "salsa blanca" is actually white sauce. But what do you get when you make salsa with white tomatoes?
The Great White finally came through for me, I picked these today. By happy coincidence I also got one perfect red pepper and snagged a couple of jalapenos, a cayenne and a habanero.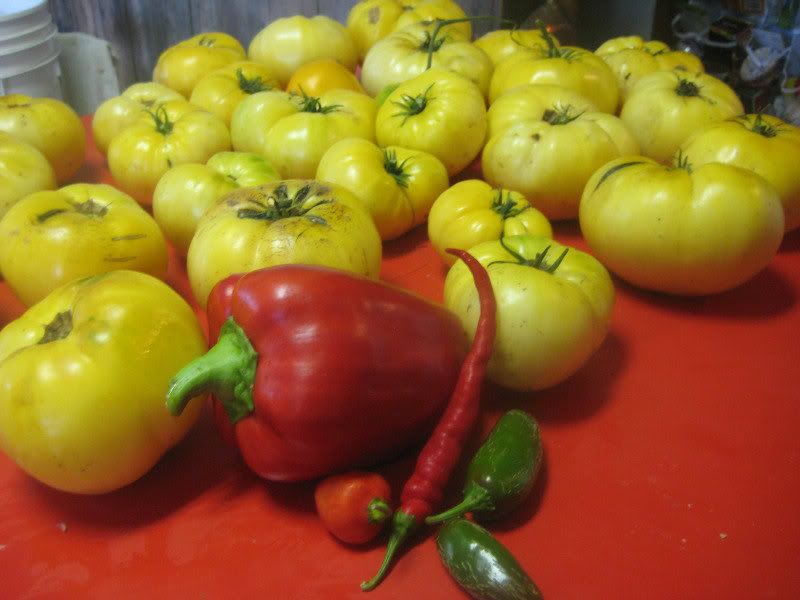 This is the white tomato that I got from the 4-H sale, labelled simply "white tomato", LOL. I've been talking to other gardeners and searching the internet and I think it's "Great White". I've been greatly impressed, this is a tomato that's nearly all meat, with very few seeds and they can get huge. This one fills my outstretched hand:
So what could there possibly be to do with these lovely, meaty, flavorful tomatoes? I could make a tomato basil soup, I suppose, or a white tomato sauce, but instead I opted to make salsa. I used the sweet red pepper, white onion, green cilantro, garlic and those big white tomatoes, all from my garden. I didn't want to "muddy" the salsa with cider vinegar, so I used lime juice as my acidifier. This is what I got, 13 pints of white salsa: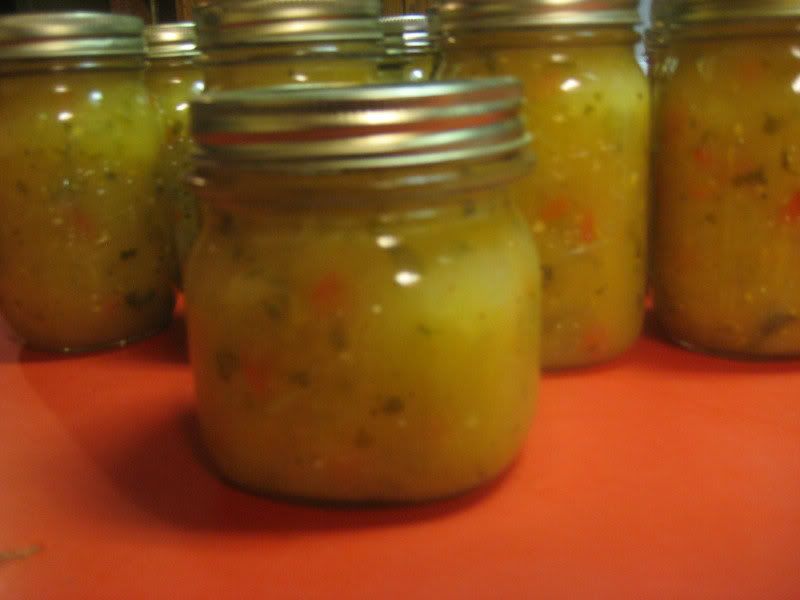 It's not as thick as my usualy salsa, because I didn't add the tomato paste for thickening. Instead I cooked some of the white tomatoes down and made a homemade tomato sauce, then added to that base. I haven't tasted yet, the salsa is always better if you let it sit a couple of weeks, but I'm anxious to see how it tastes.
Actually, I was thinking it looked a lot like chicken soup and would make an outstanding April Fool's Day joke!
Annie