please help me pick light-coloured granite counters!
feisty68
February 28, 2014
I am having trouble with finding granite slabs in my city. What we've picked has promptly gone out of stock in all stoneyards! Not sure whether to wait to figure out if they get back in stock (stoneyards can't tell me when they will restock), or evaluate other options.
You can see my mood board below - not sure about curtains (the other ones I picked went out of stock too! The mood board shows Valley White/River White.
Some candidates:
1. Millenium Cream - out of stock, maybe too beige
2. Valley White/River White - out of stock, looks great with stainless but very strong pattern
3. Panna Fragola granite from Brazil - can't seem to find good photos of it installed. It's hard to look in the showroom because of the fluorescent lighting and wierd context. Does anyone know if this is true granite or anything about its properties?
4. ???
Oh, and it HAS to be granite because of my husband. I've gone down that road with him over and over and there's no point flogging that horse again.
These counters will be very prominent in my open concept kitchen/dining/living area at the apartment entrance. I'd love more input on my layout/design thread as well.
Any help would be appreciated.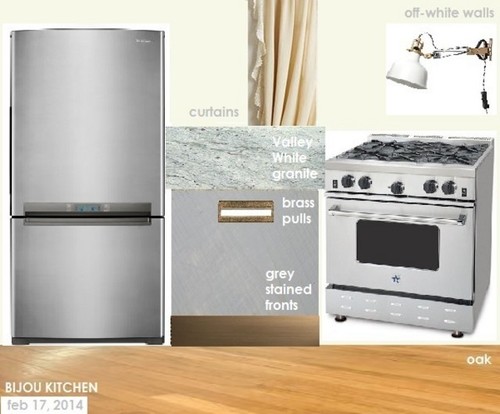 Here is a link that might be useful: Panna Fragola
This post was edited by feisty68 on Fri, Feb 28, 14 at 12:38