Layout Experts, please help me sort out this kitchen plan.
laughablemoments
February 20, 2014
Hi there,
I've had a chance to update our drawings with more accurate measurements and fine-tuned some of our wants for this kitchen.
If you were following before, we had a full bath that was chewing up half of the dining room. That is now slated for demolition. (Cheer along with me. I didn't think that this would ever happen.) We plan to put a 1/2 bath off the front entry.
Here is the close up drawing of the kitchen: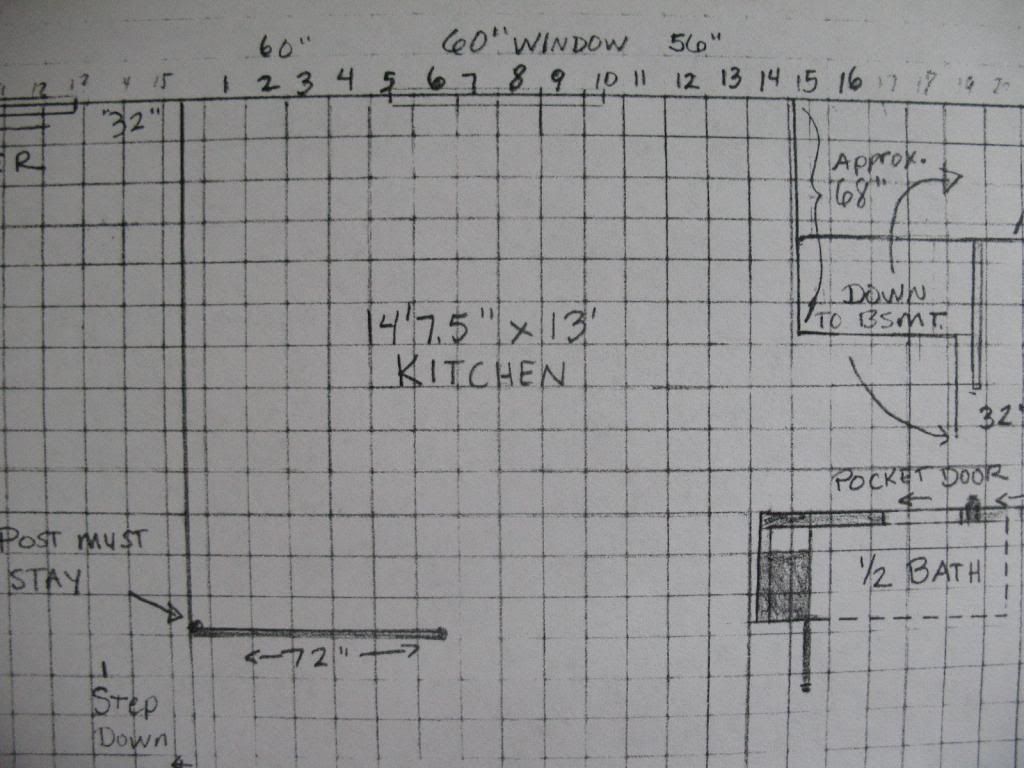 And here is the entire 1st floor:

*The chimney is grayed in on the right side of the kitchen and it will not be removed. (It goes from the basement, through 3 floors and out the roof.)
*There is a post at the bottom left of the kitchen that must stay. It would also be beneficial to keep a post at the right end of the 6 ft.wall between the kitchen and dining room.. We can open another doorway into the dining room in that 6 ft. wall without difficulty.
*I like the size and placement of the kitchen window, but can be adapted. I definitely want windows of some sort on that wall.
*We do want 2 DWs for our family of 9. We also will be using a super single sink that goes in a 36" base.
*We'll be using 1 30" electric range that has a double oven below the cooktop. We own a new OTR mw and plan to use that as well. We know they don't vent like a true vent, and we're o.k. with that.
*I'd like to leave space for a 36"x36" fridge. An extra fridge can go in the basement. It would be convenient to have 2 fridges in the kitchen, but not at the sacrifice of flow and workspace.
*A prep sink is high on the priority list for us.
*We'd like to open up the wall somewhat between the kitchen and family room. It can be windows, a pass-through, possibly a doorway. It needs to be something that will help improve communication and views. It also should make it easier for getting items to and from the slider to the patio during the summer months.
*A pantry is also necessary for us. I envision some storage going down the stairs to the basement, but I also would like storage that's more convenient, as well.
*Counter seating would be extremely useful to us. There's always somebody hanging out in the kitchen. I'd like to have a place for them to park without being in the way.
Here's the kitchen in all it's glory. : ) No, we don't live here yet. It's a construction zone.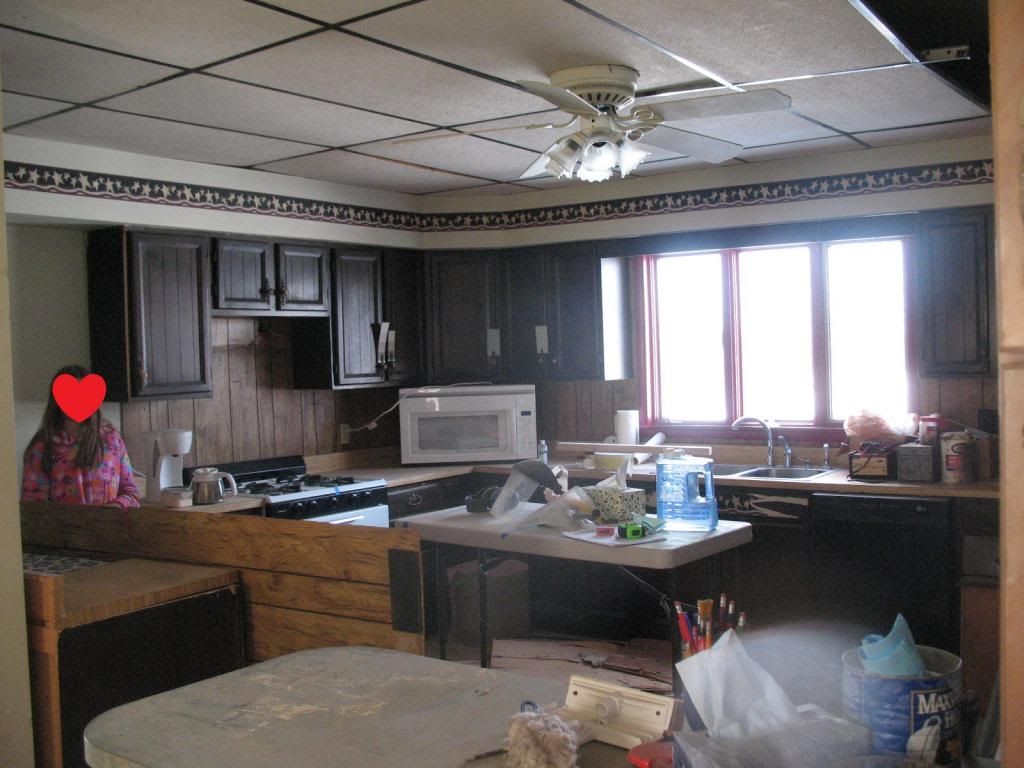 Thank you for any help you can offer!