The Void Under The Staircase..
ks_toolgirl
August 13, 2011
Sounds like a great title for a book, if R.L. Stine collaborated with the Nancy Drew author... But the situation is more like a Stephen King novel.
This is, by far, the most difficult, humbling, mortifying post I've done - & hopefully the only one this bad - ever. Bear with me, lol, I need advice - asap - but this feels like standing naked on Main Street in broad daylight in a pair of underwear 3 sizes too small... embarrassing.
Ok. Some of my questions I'm sure I've asked before - sorry if I'm redundant. The leak from bathtub wasn't resolved as I thought, there was a breach in caulking between tub & shower wall. Opposite that wall is.. The Void From He$#. Under the first rise of stairs & the landing. It's been accessed - to assess - by myself, through the back of the built-in under the 2nd rise of stairs. (Hated doing that!!!!).
Here's a pic of cupboard/portal, from outside...
The cupboard only goes back to where the landing above starts. (Does this make any sense? It's complicated). At about the top of 1st pic, the wall/ceiling angles toward you & up - the 2nd rise of stairs.
Inside the bottom of cupboard, looking through the back into the Void... (The trim was inside, as was wallpaper).
Squeeze through, & you see this. (Lots of pics, sorry).
Corner plaster, just ahead & to right -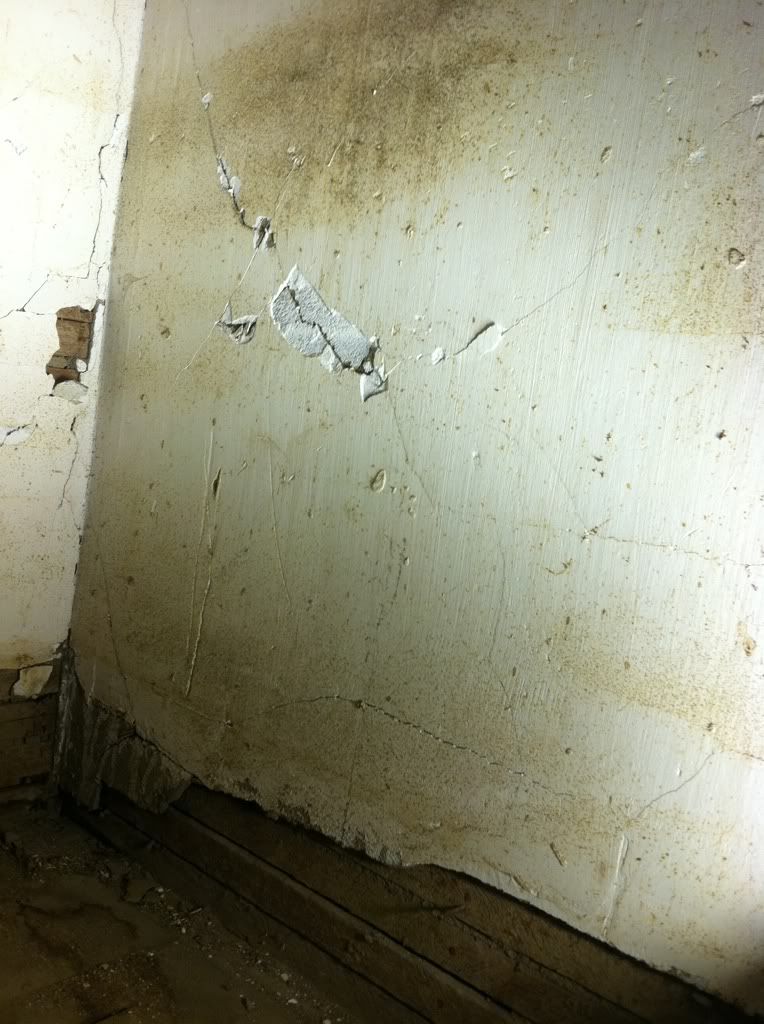 Looking to left, toward bottom of stairs -
Looking up over your right shldr, at plaster & underside of landing - the lathe is part of the opening you're peeking through.
I don't have access to a PC right now, to alter the next image - it's obviously the floor plan - as sketched by the dodo that inspected the house @ time of purchase. So I'll try to explain the location.
1st floor - image on left... Northwest corner is bathroom & tub is in same location shown. "Den" is middle room, old cupboard is labeled in sketch & stairs shown between cupboard & bathtub.
So. You've seen the nastiness. There had been a leak from the other side, directly across from cupboard. Now, there's been more moisture from the tub-seal (same wall). During every shower, water ran down the fiberglass wall & dribbled down that common wall. The washing machine fiasco "must" have gotten under there as well.
My "Dirty little secret", go ahead & judge - I admit part of me knew the problem under there was worse than I initially thought, so I deserve it. But, help me anyway?
I've removed all rubble & most plaster dust, btw. (Last night was such fun, lol).
1. Assuming that's mold - not just efflorescence - should I remove all lathe & plaster from under there? I started scrubbing plaster w/bleach, but wondering - I can't clean what I can't see.
2. Why plaster under there, in the first place? Grey horsehair & white skimcoat? Had to be done before stairs were built, all 3 sides were done & stairs only surface not covered!
I'm only asking the 2 questions now, because this is SO long already. But any & all advice & questions are welcome & needed.
Thanks, for reading the whole darn thing - & in advance for any thoughts.