Here is the stove wall. Range hood ideas?
The stove still looks a little wonky, but that'll get fixed. Anyway, now I have to address the range hood.
I'm still keeping my hopes up that the Cirrus by Best ceiling mount fan might work, but I'd like to see more real world reviews before sinking $$ into an unknown.
Plan B is to find a non-offensive something that would not interfere with the opening more than it had to. I would consider getting a bigger blower (probably external) if that meant I could keep it up higher. It would be visible from the porch side so that factors in to the small footprint or invisible (ceiling mount) wish.
Plan C is no range hood. Imagine that's not the best idea in the world.
Mama_goose (thank you!) linked to this image which is pretty much exactly what I had in mind, except more rustic (and smaller). So gorgeous. Almost makes me want to have white inset cabs with wood counters. Kinda swoon-y IMO.
No range hood visible there and I love that.
So. Does anyone have any great ideas? Or pics of range hoods visible through a pass through that would make me not hate the idea so much? Or both?
As an aside: currently searching for a low backsplash (as the one shown in the pic) for my Chambers to swap out with my high one. That would solve the back splash problem of needing to be 16" tall to cover the unfinished back. Bellsmom had the idea of keeping the counter back splash lower and putting something on the ledge behind the stove backsplash to cover it and that's one good idea, but I think I'd rather lose the high BS altogether.
Anyway, here is the rendering of my space. Let 'er rip: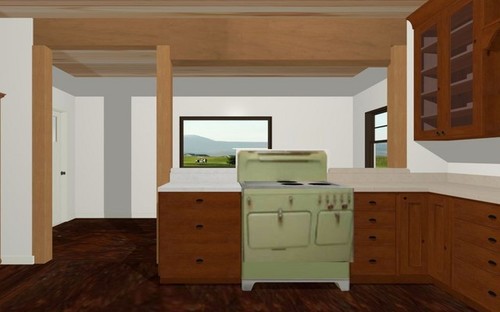 Here is a link that might be useful: ceiling mount fan