How should I decorate this big room with a vaulted ceiling?
SkylarKDM
February 4, 2013
I have no idea how to decorate the living room/dining room of my house. I am open to any suggestions! We have decided to put some money into painting and redecorating, but we'll keep most of the furniture (maybe replace the dining table though, or buy something for storage - there is a major lack of storage in here!).
It's an open concept house with a vaulted ceiling that raises to a point halfway along the shared wall for the living/dining room. It's a split entry, with the rail over the stairs just behind the long couch. The kitchen is just off of the dining room, but it is not an eat-in, so we eat at the dining room table. I love the light in the room, but have no idea how to decorate it.
Here is the living room. We used to have the long couch along the big wall, but recently switched things around. I'm thinking about putting a fireplace where the photo table is. As you can see, we haven't painted, and we have no artwork. The high ceiling throws us off - I have no idea what to do for paint and art arrangement.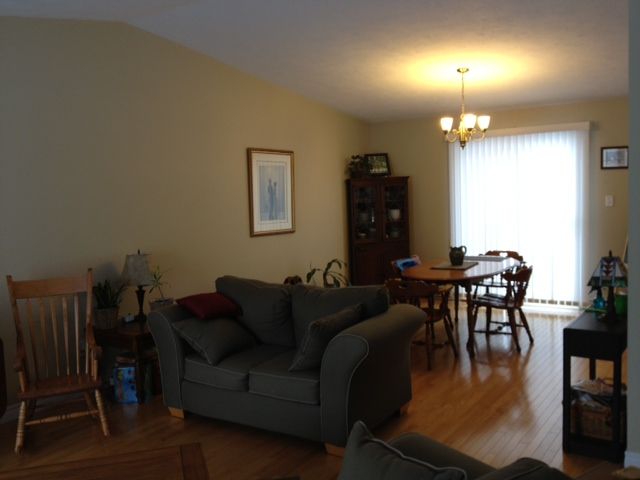 Here is the view from living room to dining room. I love the painting, but the frame needs to be changed, and it's all wrong in that location (we used to have the photo table under it). But what to do with that huge wall? I also think the chandelier is too high and I'd like a change. I like built-in benches for breakfast nooks, but not sure if that would look good in this space.
Here is another view of the dining room. We have 2 small kids and no playroom, so we have an easel and play kitchen along the back of the kitchen counter (a messy area right now!). There are sliding doors to the patio behind the vertical blinds.
Any thoughts? I'm open to any and all suggestions! I'm happy with the decorating in the other rooms of my house, but hate the layout and decor in here - there must be something that can be done!
Thanks!