Decorating large 2 story room for LR and DR - HELP???
I am looking at a house that is beautifully finished and is a great investment (separate rental home on site). I think it is not selling because of the unusual layout. It is a very large home in sq footage but has a non traditional layout. It has these 2 living areas but no formal DR. The 2 story area is 23x14 and the other wood room is 21x13. The wood room is directly across from the kitchen. The kitchen has a large 12x16 casual eating area but my husband would also like a formal DR using the set we own (pictured). We use the DR for Easter, Thanksgiving and when we have a meal for more than 4 adults which might be another 2-4 times a year.
So in these 2 large living areas I would like to have a casual TV family room and formal dining room. Somewhere I would also need a desk/office/homework space. Where would you put the formal DR set? Where would you make your main living area?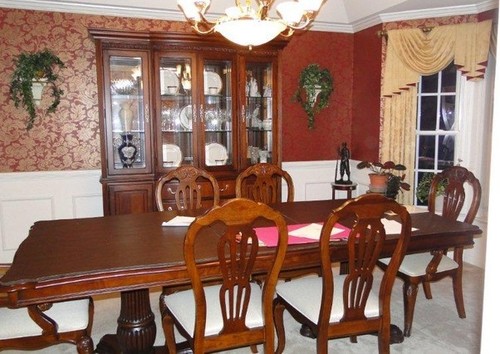 Here is a link that might be useful: Pictures of house to decorate