Dressing up the exterior
Hi All. I'm a new poster to the Old House forum, although a long time GardenWeb member. My husband (of less than two weeks) and I bought a beautiful older home in the Keweenaw Penninsula (that's waaaay up north in the Michigan UP - sticks out in Lake Superior). We absolutely love the house and the town (which is full of many many old houses, a lot of them in beautiful condition). We would like to dress up the outside of the house and have a lot of great ideas for the garden (which unfortunately is very small), but we'd like to do something with the house too. We've talked about window boxes and we will probably do those next summer. But we'd like to do more. The outside of the house has been sided with vinyl siding, and since it's in excellent condition we won't mess with that at the moment. We've talked about painting the foundation, stair treads, and trim in a dark color like a deep green or a deep rich burgandy color. We've also talked about shutters, but don't know how folks handle that on the type of bay window area that we have. There is too little room to put shutters between those areas. I'm just looking for good ideas. Can anyone help? Do you have pictures of things you've done with similar type houses or windows that you could post?
Here's our house: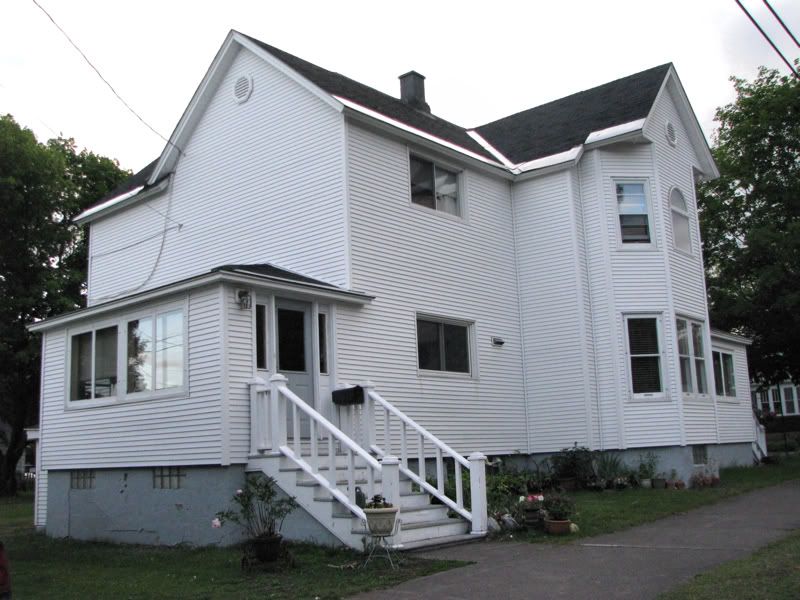 Thanks for any and all ideas!
Joyce