Soffit Solutions?
I need help with our soffit situation. I've posted about our kitchen before, but long story short: We're re-arranging existing cabinets (it's just what makes sense in this market) and painting them. I am adding one IKEA drawer base and will get custom drawer fronts at the end of a run.
We've started ripping things out, but I need to figure out what to do about our soffits. (EDITED TO ADD: There's about 15" of space above the pantries/wall cabinets.) I don't think we can raise the wall cabinets and put a shelf beneath, because that wouldn't work for the pantries surrounding the fridge unless we wanted to build them up, and I'd like to be able to reach everything in the cabinets.) So options, as I see them, are to:
1) Remove soffits completely and have flat, open space above cabinets. (I think staggering the heights with our layout would probably look weird, due to the fact that the pantries are deep, and the other wall cabinets -- including the one above the fridge -- are shallow.)
2) Keep/add soffits above all cabinets, but paint them cabinet color and add crown to the top for simple cabinet illusion. (It will be obvious they aren't really part of the cabinet, but might help them blend in a bit.)
3) Buy cabinet doors to install on soffit studs, giving the illusion that there are small (like 12" high) cabinets above the main cabinets.
I like #3, but I'm afraid it might look weird with my particular type of fugly cabinet doors. I've never seen a double layer of cabinets with such old fashioned doors. Do you think that would look crazy??
Any other potential solutions I'm missing?
Thanks so much!
Elevation of wall in question (We're going with the bottom option, but I left the top one on here because the doors are drawn pretty accurately for reference):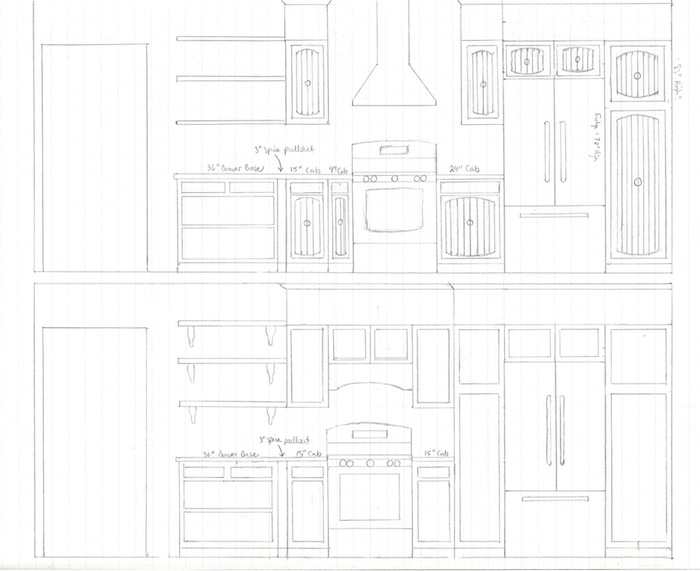 What we're dealing with: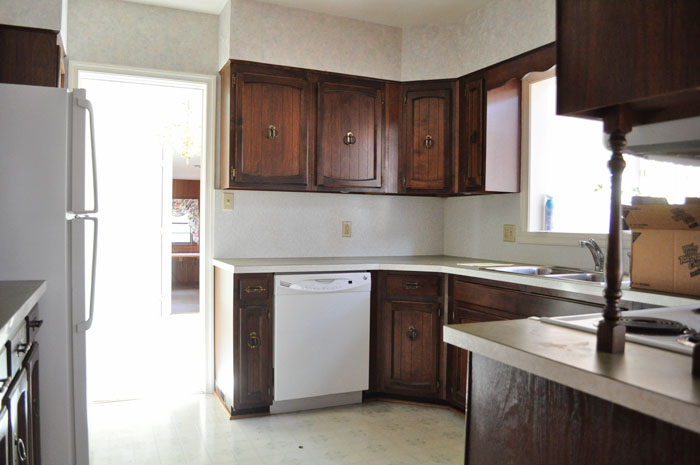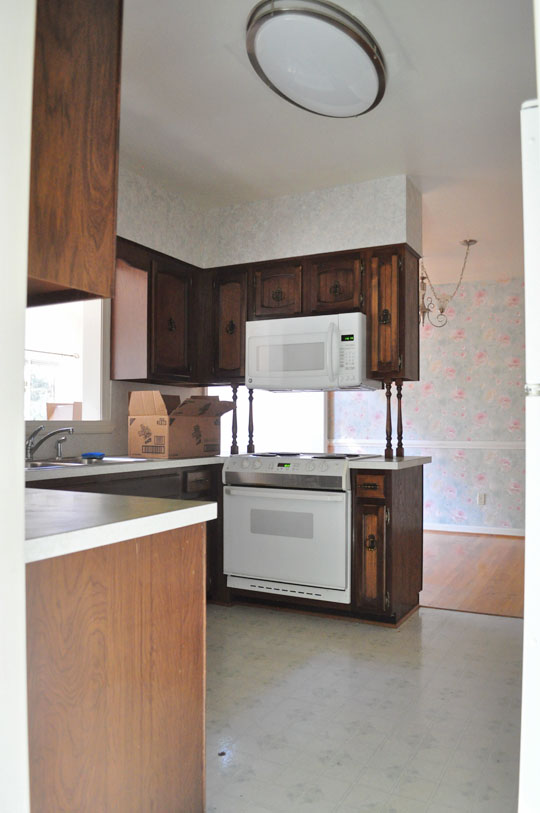 We were originally just going to take down the cabinets over the peninsula and get a new range and hood, but ultimately we decided it would be worth it to open it up completely and remove the peninsula all together. It'll cost more because we now have to continue the wood flooring throughout, but it saves some as well, because we can get a freestanding range (not as attractive, but a better range for $400 less) and a less expensive hood.
So this is where we are now...
This corner wall cabinet is coming out, too. I'm thinking we can take out most of the soffit on this side, with the exception of what will be left above the wall cabinets over the dishwasher. That will have to match with whatever we do on the range/fridge wall: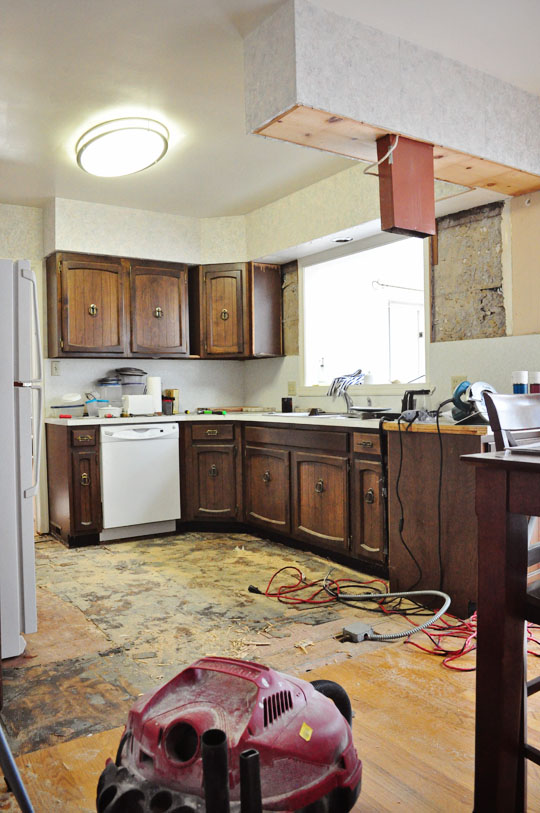 This is the wall I'm most concerned about with the soffits: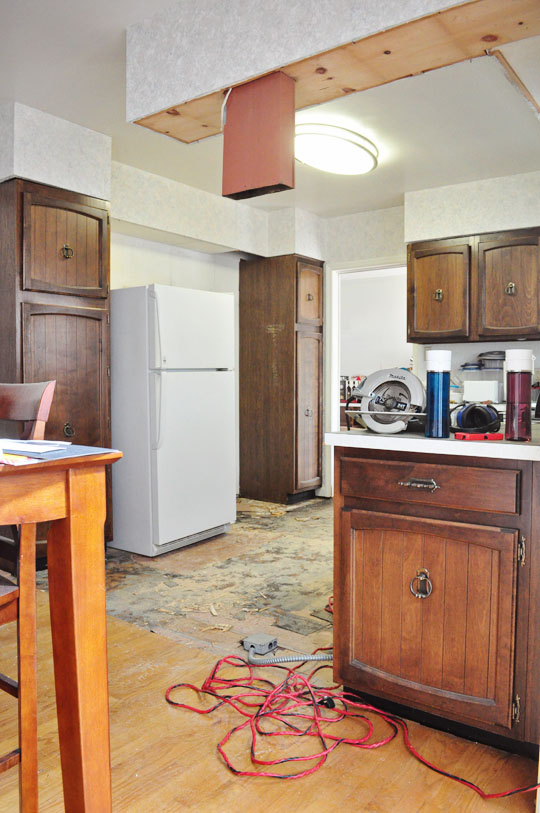 We're pretty set on the new layout at this point for various money-saving reasons, so our main concern right now is finding a creative soffit solution. Any suggestions??
Thanks so much in advance!
Katie
This post was edited by kmgard on Fri, Feb 28, 14 at 11:26