Such a sad sight to see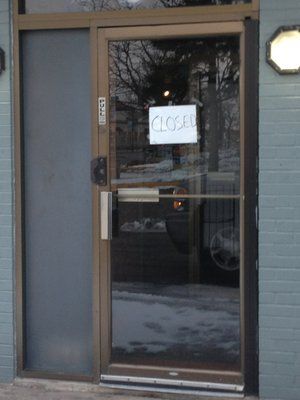 This is all that's left of a dead friend's family business. A closed sign. Combined, he, his wife and his son, invested over a century of their lives to their businesses and this sports grill/bar was the "flagship". It was the one that started their little empire.
I know I posted about this before but at the time I didn't know the business was unable to survive without him. That shocks me more than the deaths. For those who don't recall, wife died many years ago and father and son were unusually close. They ran their businesses together, fought like dogs and cats and made a great living. Their business and their relationship were their lives and their obsession. They actually enjoyed the fights. And dad admits that he wasn't always right!
Years ago, son had taken over, dad retired (for the most part), and healthy as son was (incredible shape outwardly anyway), he died from a sudden heart attack. Dad just couldn't deal with it and after a few years money couldn't buy happiness, even his friends and other family couldn't make up for the loss of his son and he committed suicide. Surprisingly, it didn't take long for the closed sign to go in the window. Why I'm so surprised is this was not a "small" business in the sense that they had many managers and employed a lot of people compared to other restaurants and bars of its size. They were very popular with the young crowd. I can only speculate that finances were an issue to keep up with operating expenses since the business would be tied up in probate. Or there could be other issues unknown to me.
They had been running this business since 1969. It started as a franchised family restaurant but as the times changed they changed with it and converted to the sports grill and bar business model and things grew. Although they were definitely micro-managers and very hands-on in the operation, the place still ran fine when they were gone. Guess that's why it seems so strange that it couldn't survive without them. The legacy they would leave, the century of their lives put into it, just seems like a waste.
Nothing has replaced it yet. Seems strange to think of it not being around even without the immediate family running it. Seems like a waste too. The grandkids won't have it or the benefits of it. Don't get me wrong, those kids certainly will not starve but it just all kind of amazes me. Life is uncertain but to see a thriving business crumble from the loss of one or two people is kind of surprising.
As I said, just kind of sad all the way around.