awkward kitchen space need remodel layout ideas help!!!
barrelracer
February 19, 2013
So I have my current kitchen area completely gutted down to the wall studs and even took out one wall already and am about to take out a second to open the kitchen area up into the family room. I desperately need help with my kitchen layout as the space is somewhat awkward (to me at least) and I am having problems deciding what the best layout is. I have included a scan of a basic empty floor plan sketch I just drew up. The kitchen area is the 24ft long wall area between the living and dining room. There is a staircase that curves down into the kitchen directly from the 2nd floor that is original and I will not alter it in any major way such as getting rid of it like my husband suggests we do. I can add windows and/or doors anywhere on the exterior walls and would like a sizely window on the 24ft wall (maybe above the sink) so I can look outside and see my horses. There was originally a door in the kitchen to outside when I bought the house, but am getting rid of it so didnt include it in the sketch. I also showed where a staircase goes from kitchen to basement through 2 doorways. I plan to close off the first door way from the kitchen down to the basement and make a solid wall because there is another doorway that will give me access to the basement door from inside the house. There is also more to the front of the house which includes a french door centered on the front, but didnt feel it was necessary to draw in the floor plan.
Without telling you too much to influence your ideas I would like to say that I will be adding french doors in the family room out to a deck on the same side of the house as the 24ft kitchen wall. I would like to have a peninsula I think for people to be able to sit at and converse with whomever is cooking in the kitchen. Also I do NOT want to put the stove in front of the staircase!!! I have a kitchen planner draw this scenario up once in a layout and I honestly couldnt believe she thought that was acceptable. Coming straight down the stairs into the stove just seems like a MAJOR safety issue to me. I hope I haven't confused anyone and REALLY need your help for a layout. I spent several hours the last few days trying to figure this out and havent found anything that I am just in love with so I am turning to the creative minds here. Thank you in advance and I look forward to seeing what you all have to say!!!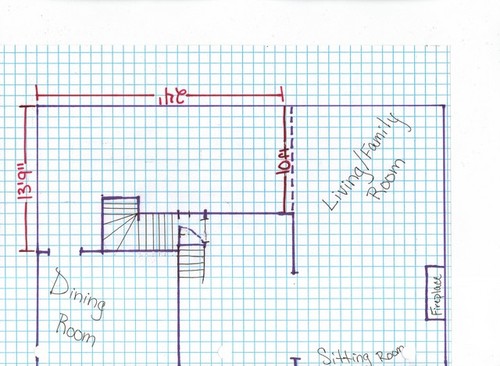 This post was edited by barrelracer on Tue, Feb 19, 13 at 11:21