My new kitchen is a mess - Need some help Please - Lots of Pics
I read a lot of threads here last night while I couldn't sleep. I read some really great posts and while I was cooking some lunch today I had an idea. If I post some pictures of my pantry & cabinets maybe everyone can help me get organized. I decided to do this on a whim, so please excuse the mess. I'm also pretty embarassed at the amount of junk food in that pantry. DH has been doing most of the grocery shopping lately & when he and the kids go, look out!
This my first real kitchen. We've lived her a little over a month. The disorganized mess is a result of moving day & all of my helpers just unpacking & putting stuff away.
I can not believe how packed my new pantry is. I thought it was huge & now it's full. But I'm not really using a few of my cabinets at all & have no idea really how to utilize them.
My old house had just a few cabinets & a huge laundry room that I filled with wire shelved & that became my kitchen storage. I guess that's why I've put everything in the new pantry. I realize I need to group like things together but am overwhelmed at where to start. Any thoughts, suggests would be so much appreciated.
I also have a closet nearby that I've put a few shelves in. It doesn't really have a purpose yet either. I've put some school supplies in there that I'd like to stay. And the phone book & that's about it.
On the kitchens forum I read about people creating 'baking stations'. That's why I put all my baking stuff in one drawer. I'm really not crazy about that drawer. And when I do bake, I do it over where the pullout trash is. I don't bake without my little helper, my 3 yo dd wanting to help. So that is where we have the most space. I also gave her a drawer of her own with her blue measuring cups in it & her apron.
Again, I'd love some ideas from you orgainizing experts out there. I'm so excited to hear your thoughts & ideas. We've been waiting & wanting to build our new house since we were married six years ago so we are still just so happy to be there. While modest compared to a lot of homes I've seen on this site, this really is our dream home. TIA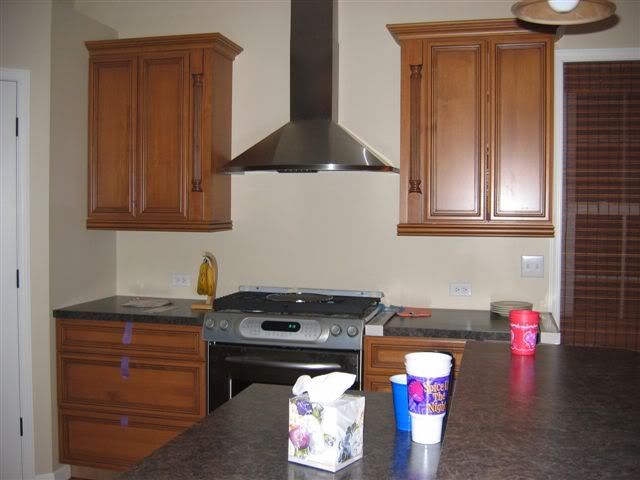 photobucket.com" target="_blank">