Are Wall Sconces (shelves, not lights) Passe?
We will be moving into the new house next week (provided I'm not in jail for doing bodily harm to the builder). I know that as I unpack, I will find at least 2 pair and 3 single wall sconces- total of 7 sconces. These are not lights. They are the little decorative shelves that were all the rage some years ago.
Of all the sconces I've bought, only one has ever been used. The others I bought when they were oh-so-very popular, but I never used them. The one that was used, was used to get my makeup mirror up to eye level in our tiny bathroom. That is not necessary in the new bathroom.
So, my question is, what do I do with these sconces? Ebay? Freecycle? Use them?
If the consensus is "use them," then the question is how? I've searched Houzz and Google images. Mostly, I found sconce light fixtures. Maybe I'm not the wall sconce type?
Edited to add:
found sconces on Houzz
Traditional Dining Room by Los Angeles Furniture & Accessories DesignersHouse
Suzanne Kasler at Things That Inspire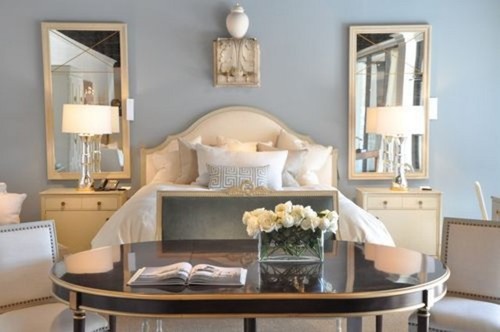 This post was edited by bbstx on Fri, Feb 21, 14 at 6:39