Final Chapter - Smoke Da Pig
moosemac
September 3, 2012
Whew! Well I survived the last few days and here are the promised pictures.
Pig in Brine Under Ice - Put the pig in the brine on Wednesday and took him out Saturday.
Trussed Pig - We made a sling out of stainless steel braided wire. It worked great!
.
Rubbed the Pig - Rinse and patted dry then rubbed inside and out with a dry rub mix.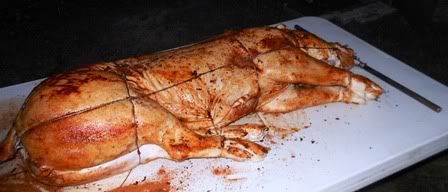 Into the Sauna er...Smoker - At 7PM on Friday, we slid him into the smoker and fired up the woodstove.
The Finished Product - Smoked at 220-250 degrees for 19 hours, here's the finished product. No the skin isn't charred. It's actually dark dark brown because the main wood used to smoke him was oak. I learned too late, if I used Sugar Maple (next year), the skin would have ben golden brown.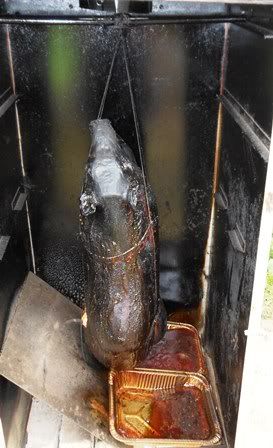 The PIG - The guys decided since the pig was smoked, he needed a cigar in lieu of an apple in his mouth. Sunglasses were for his "tan".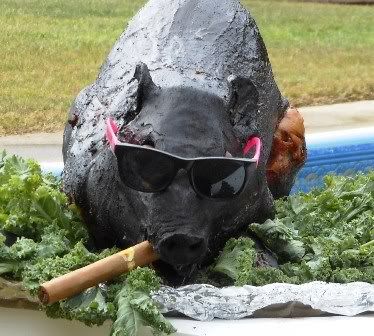 Pig Under the Knife - DH nephew, the butcher "volunteered" to carve. The meat was juicy, tender and flavorful, a home run!.
Spectator Sport - A few of the "supervisors" gathered around to watch the spectacle.
That's All Folks!